Mazda has confirmed it will unveil the all-new 2016 CX-9 at the Los Angeles Auto Show later this month, bringing a fresh design and technologies to its largest crossover.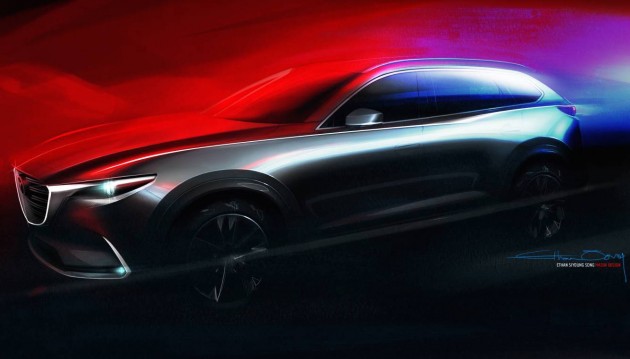 So far only this teaser sketch has been released, but it gives us some insight into what to expect in terms of design. The new model will adopt Mazda's latest 'Kodo' styling theme, with a more prominent front grille and sleeker glasshouse area.
Mazda says the new model will incorporate the latest SkyActiv technologies too, with revised engines likely to make up the range. According to reports, a 2.5-litre turbo-petrol could be in the mix, as well as a refined 3.7-litre V6.
As always, the CX-9 will offer seating for seven. However, the interior is set to get a major overhaul. Recent Mazda interiors have really stepped up a notch in terms of quality and design, with a stand-alone tablet-like LCD screen now featured on almost all models in the showroom.
The new CX-9 is expected to come with a similar interface setup, along with plenty of in-built apps for connectivity and media functionality. Mazda also says the SUV will go for a more premium execution this time around.
All will be revealed on November 20, at the start of the Los Angeles show. Market entry is set to take place next year.