Mercedes-Benz is working on a new small SUV slated the Mercedes-Benz GLA. The new model will be based on the MFA platform which underpins the A-Class and B-Class.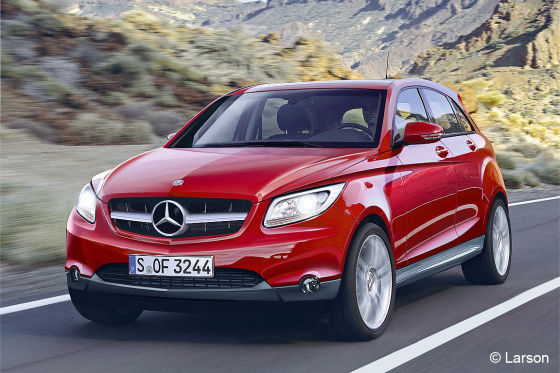 The GLA will be Mercedes-Benz's answer to the BMW X1 and the Audi Q3. It's set to be slightly shorter than the X1, but longer than the Audi Q3. According to a recent CAR magazine report in the UK, the GLA will share a similar overall size and dimensions as the new B-Class.
As for the design, the GLA is expected to take on the company's latest design language, with flowing panel lines running down the length of the body. The front end is likely to feature LED daytime running lights, while the body will be perched on a jumped up overall stance.
Powertrains are said to include front- and rear-wheel drive setups, and a range of four-cylinder petrol and diesel engines similar to those seen in the A- and B-Class. Some of the lineup includes a 90kW '180' variant, a 115kW '200' model, to a range-topping 150kW '250'. Diesel engines in the A- and B-Class span from 80kW to 125kW offerings.
The new GLA is set to be Mercedes-Benz's only model in the premium small SUV market, and will be part of the company's plans to offer more premium/sports models in the smaller, more entry-level segments.
The GLA – name yet to be officially confirmed – is set to hit the market towards the end of 2013, following the launch of the new Mercedes-Benz CLA 'miniature CLS'.
(Image courtesy of AutoBild)