It hasn't taken long for Mercedes-AMG to transform the new GT sports car into a stripped out racer, with the introduction of the new GT3.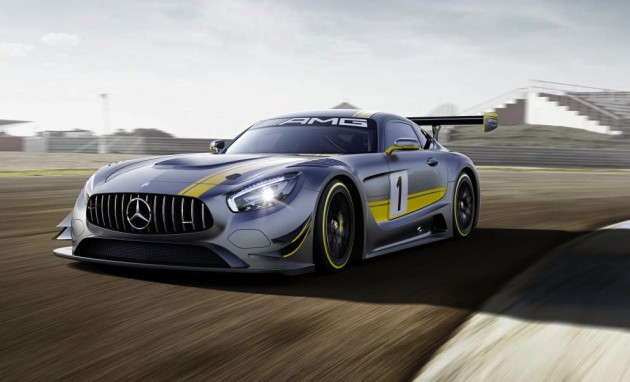 The car is based on the new AMG GT coupe and is kitted out in full FIA-certified GT3 specification. It uses a widened body with a full aerodynamic package, with gapping air intakes and fins at the front end, a huge wing at the back, and a proper splitter section on the nose.
Like the GT road car, the GT3 racer is made from a lightweight yet very rigid aluminium spaceframe, while a carbon fibre seat pan is installed, along with an integrated roll cage made from high-tensile steel.
Under the bonnet the 4.0-litre twin-turbo V8 from the road car is replaced by a 6.2-litre naturally aspirated V8. It's taken from the previous SLS GT3 and of course meets GT3 regulations, capped at 500hp (373kW).
From there power is sent through a six-speed sequential transmission which is mounted at the rear axle as a transaxle, just like in the road car. This is all held together with aluminium double wishbone suspension. Tobias Moers, chairman of the board of management at Mercedes-AMG GmbH, said,
"We are entering a hard-fought and hotly contested competitive environment with the new Mercedes-AMG GT3. The high technological standard and fair race rules are spurring us on to push to take pole position with our new customer racing car. You can only give credible proof of your ambition to lead if you're beating the very best in the game."
The car will be shown to the public at the Geneva Motor Show which starts next week. Customer deliveries will then take place at the end of 2015.