McLaren has released the specifications of the epic new McLaren P1, the successor to the grand daddy of them all, the McLaren F1 of the Nineties. A hybrid powertrain for the P1 producing a combined output of 674kW (916PS) and 900Nm has now been confirmed.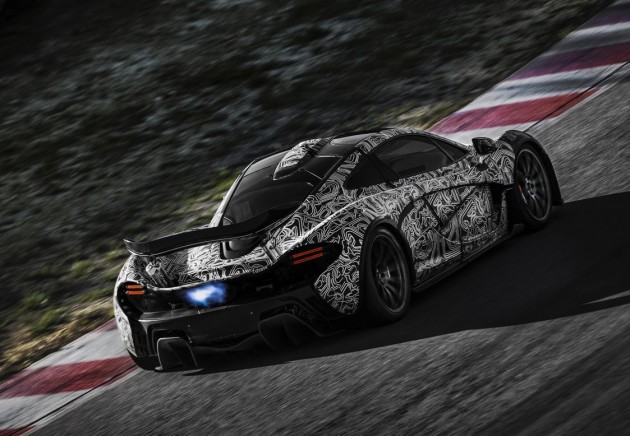 The new model will be unveiled in its entirety in just a few weeks at the 2013 Geneva Motor Show in Switzerland.
As previously reported, petrol power comes from a heavily tuned version of the 3.8-litre twin-turbo V8 currently seen in the MP4-12C supercar. The new engine produces 542kW and 720Nm alone.
Matched with a sophisticated and lightweight electric motor system, grunt is increased by 132kW and 260Nm. The literally instant response from the electric motor ensures the P1 gets up to speed extremely quickly. McLaren hasn't released official 0-100km/h acceleration figures yet, but there's no doubt the sprint is likely to come up somewhere in the 2.0-seconds region.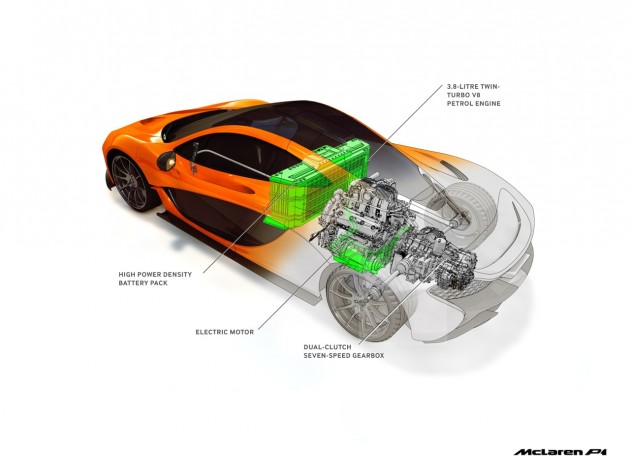 The electric motor, or 'e-motor' as McLaren calls it, is mounted directly to the petrol engine so power can be transferred easily and immediately. All power is propelled through a seven-speed dual-clutch auto transmission and into the rear wheels.
One of the many clever aspects of the hybrid system is the way the electric motor can actually help to offer quicker gear shift times, resulting in optimum, seamless acceleration. It does this by providing the input shaft of the gearbox with an instant negative torque at the time of shifting, allowing the transmission to swap another cog with very little load.
Another interesting feature is the E-mode driving mode. This is basically a full-electric mode which consumes zero petrol. This type of driving is available for a range of around 10km before the petrol V8 kicks back in. For an all-out supercar, this could be the perfect setting for when you're out on a midnight drive and want to return to the garage as quietly as possible.
With features like IPAS (Instant Power Assist System) and DRS (Drag Reduction System), the P1 will be one of the most advanced vehicles in its segment. It's also going to be an astonishingly fast vehicle. In regards to how the powertrain will behave and perform, McLaren says,
"The McLaren-developed 'boost' system, IPAS, provides up to 132kW instantly. The instant response of the electric motor provides a sharper throttle response more associated with a normally aspirated engine, and the significantly enhanced air-charging system enables the McLaren P1 to have more top-end power – the perfect combination for high performance."
McLaren says more details will be revealed just prior to the car's debut at Geneva on March 5. We'll be sure to provide plenty of coverage.