McLaren has used the 2018 Goodwood Festival of Speed to debut the 600LT track-ready supercar, giving spectators their first chance to see the beast sprinting up the hill climb via some smokey donuts.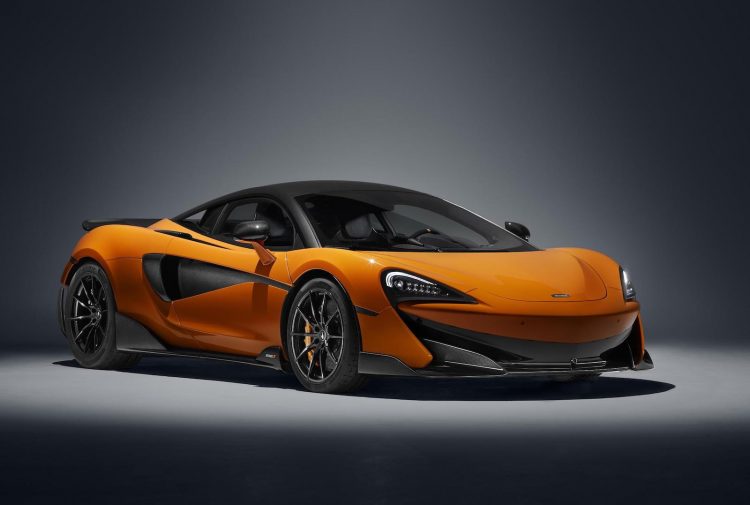 McLaren is calling it the quickest, most powerful and track-focused Sports Series model it has ever made. It's based on the 570S, which is the second from the bottom in terms of performance and price, only it features a unique body, tweaked powertrain and increased aero.
Power comes from a 3.8-litre twin-turbo V8 that develops 442kW (600PS) and 620Nm, which is enough to dust off 0-100km/h in only 2.9 seconds. It'll also do 0-200km/h in 8.2 seconds, with a top speed of 328km/h. Yep, they said it was the quickest.
Helping the 600LT suck down onto the ground is a 'Longtail' body which is 74mm longer than the regular 570S. There's a chunky rear diffuser, a large fixed rear wing, and an extended front splitter. All of this, paired with a flat carbon fibre floor, helps to produce up to 100kg of downforce at 250km/h.
Weighing in at 1247kg, the 600LT is 100kg lighter than the 570S coupe. This, along with the increased engine power and increased aero downforce, helps the new model carve up race tracks. Also helping is a set of brakes adopted from the Super Series, with carbon ceramic discs and lightweight aluminium calipers. McLaren says the 600LT can pull up from 200km/h in just 117mm, which is only 1m more than the P1.
Buyers can go a step further and opt for the MSO (McLaren Special Operations) Clubsport or Clubsport Pro pack. These add special features such as lightweight carbon fibre seats, shift paddles, steering wheel, and titanium wheel bolts. There's also an MSO Defined harness bar and six-point harness setup for very serious drivers. Mike Flewitt, McLAren CEO, spoke of the model, saying:
"The new McLaren 600LT is our most extreme road-legal Sports Series model and possesses the optimised aerodynamics, increased power, reduced weight, track-focused dynamics and enhanced driver engagement that are the hallmarks of any McLaren LT."
Interested buyers can place an order now, with prices in the UK starting from £185,500. It's understood some examples will be offered in Australia, although details are yet to be officially announced. Check out the video below to see it rip up the Goodwood hill climb and destroy some tyres in the process.