McLaren has released another teaser image of its new 'entry-level' supercar called the 570S, this time giving us a glimpse of the unique buttress setup for the C-pillar.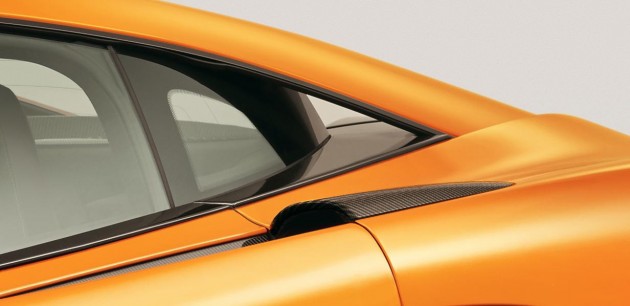 The 570S will follow in the footsteps of the 650S and McLaren P1, only it will be the little brother with a more affordable price tag and more accessible engine performance. It will showcase a carbon fibre construction though just like its bigger brothers.
McLaren builds its family hierarchy or DNA in two groups; the Super Series and the Ultimate Series. The 570S will become the foundations for the Super Series lineup. McLaren explains,
"A pure McLaren, offering class-leading levels of performance, coupled with optimised handling characteristics and driving dynamics, the 570S Coupe marks the first time McLaren has offered its pioneering and race-derived technologies in the sports car segment."
In the engine compartment is expected to sit a detuned version of the company's widely used 3.8-litre twin-turbo V8. McLaren says the 570 in the name indicates the level of output, in this case 570PS (419kW). This will make it the most powerful car in its segment, remembering the Ferrari 458 (419kW) goes up against the 650S (478kW).
What cars will it go up against then? Think along the lines of the Porsche 911 Turbo S (412kW) and the upcoming Honda NSX. All of the details including the exterior and interior design will be revealed next week.