More specific and more accurate specifications have released by GM regarding the 2016 Cadillac ATS-V and its new twin-turbo V6 engine.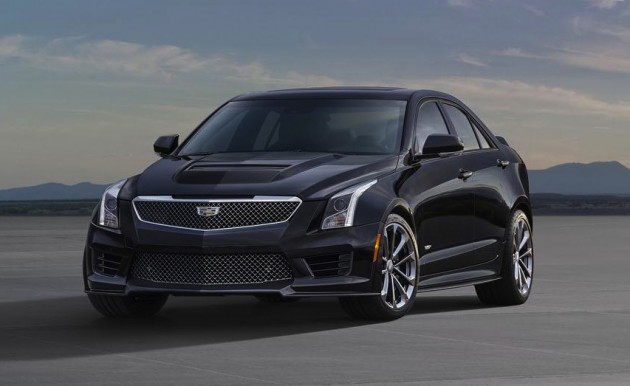 Originally estimated to produce 339kW, the 3.6-litre twin-turbo V6 actually develops an impressive 346kW of power and 601Nm of torque. This makes it more powerful than the Maserati Ghibli and its 3.0-litre twin-turbo V6 (301kW/550Nm), and more powerful than the BMW M3 and its 3.2-litre twin-turbo six (317kW/550Nm).
GM says the output is the official SAE-certified specification. Considering the ATS-V hasn't had time to evolve like rivals such as the BMW M3 and Mercedes-Benz C 63 AMG, these are some very exciting figures for a mid-sizer.
Out on the tarmac the ATS-V will be capable of covering 0-60mph (97km/h) in just 3.8 seconds, making it quicker than the latest BMW M3 (4.1 seconds, 0-100km/h). The Cadillac can also hit an incredible top speed of 304km/h. David Leone, Cadillac executive chief engineer, said,
"As the smallest and lightest V-Series ever, the ATS-V forges a great connection with the driver, with exceptional nimbleness and responsiveness. It's adaptable to the driver's preferences, with every selectable mode developed to deliver the best performance for all types of driving scenarios, including the track."
The performance machine comes with a number of on-board goodies, such as a performance data logger, three driving modes – touring, sport, track – and a third-gen Magnetic Ride Control adjustable suspension system. The manual versions are also equipped with Active Rev Match which provides no-lift shifting capability, and launch control. The eight-speed auto also features launch control.
Cadillac will launch the ATS-V during the second quarter of this year. It'll come in coupe and sedan format. All we can say is, if only the Commodore hung around for long enough to receive the awesome new V6. Maybe one day the Cadillac brand will make it to Australia?