Australian Mark Webber has won the 2012 Monaco F1 Grand Prix after holding off Mercedes driver Nico Rosberg on the famous Monte Carlo circuit. This is Webber's second win at Monte Carlo in three years.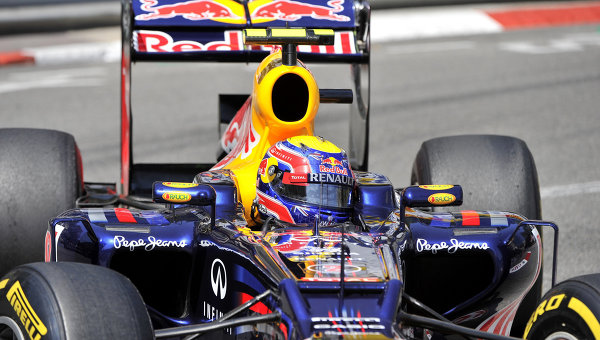 Apart from a lap one, turn one incident which saw Romain Grosjean, Paul Maldonando and Kamui Kobayashi out of the race, the majority of the race was a battle of tyre conservation
Webber lead the majority of the race after starting on pole, only his Red Bull Racing teammate Sebastian Vettel had a turn out in front after starting on the 'harder' soft tyre and therefore pitted much later. It proved a great strategy for the world champ, the clear air saw him make his way to fourth after starting down in tenth on the grid.
Webber was naturally pleased with his first win of 2012 at the most famous race on the F1 calendar.
"It was a very interesting race," Webber said post-race. "It was reasonably straight forward at the start. Getting away, it was just a matter of getting back into a reasonable gap.

"Amazing day for the team, myself. I'm really, really happy to have to win here again. Great memory for me. Fantastic."
At around the lap 70 mark, Rosberg, along with Ferrari's Fernando Alonso and Vettel, were right in the mirrors of the Aussie. But Webber stayed cool and calm and crossed the line around half a second ahead of the German.
Rosberg said he believed his Mercedes team gave him a car good enough to win in Monaco, but was pleased with second place.
"I was surprised with how strong we were in qualifying and in the race," Rosberg said.

"For the weekend I think we had the fastest car out there which is great.

"Unfortunately it didn't all come together perfectly, P2. I think we could have been P1, but I'm very happy with second place."
Lewis Hamilton finished fifth after spending much of the race complaining about the tyres on his McLaren, while Ferrari driver Felipe Massa was not far behind in sixth.
Hamilton's teammate Jenson Button had a Monaco weekend to forget. After starting 13th, Button never found his mark and late in the race he got tangled with another car and spun out of the grand prix with just eight laps to go.
Aussie driver Daniel Ricciardo also had a shocking Sunday in Monte Carlo, his Toro Rosso was garaged on lap 65.
Seven-time world champion Michael Schumacher also failed to finish, his Mercedes suffered long term damage after getting a bump on lap one from Grosjean.
Current standings after the event: