Remember the Apollo Intensa Emozione teaser from the other day? Well this is it. This is a brand-new supercar made by the recently-rescued Gumpert company, now called Apollo.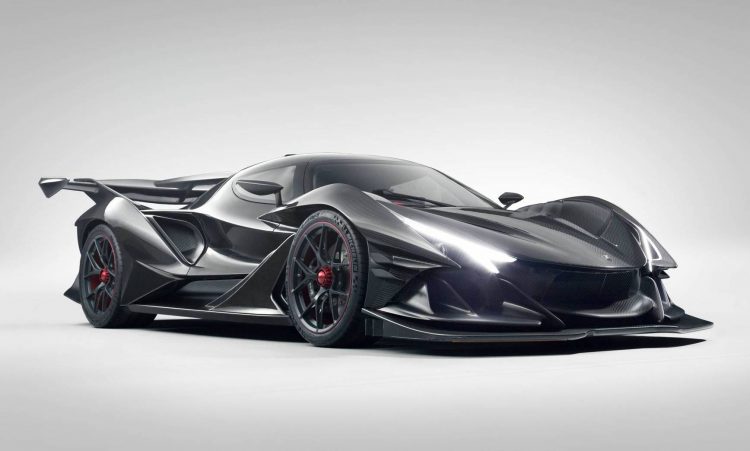 On first impressions, it certainly looks like a hypercar. In fact, it looks more like a racing car of the future. From the super-low front splitter with carved-out intakes, to the complex side panels that channel air into various places, to that massive rear wing, you get the sense the car was primarily designed to slice and splice air, like some kind of high-speed cultivator.
It is high speed too, featuring a 6.3-litre V12 engine that produces around 582kW (780hp) and 760Nm. This gets it from 0-100km/h in just 2.7 seconds and up to a top speed of 333km/h, making it one of the quickest non-turbo and non-hybrid hypercars around.
A lot of the performance comes thanks to its lightness. All of those crazy body panels, and the monocoque platform actually, are made from carbon fibre, resulting in a kerb weight of around 1250kg. This is very light for a modern hypercar, and the near-perfect 45:55 front to rear weight distribution should make it quite a balanced drive.
Speaking about balance, that intense body has been crafted in a wind tunnel (obviously) and is able to generate a whopping 1350kg of downforce at high speed. So we can apply that funny old saying here; you could drive this car upside down, if you could find the right road and hit the right speed.
In other areas, the Intensa Emozione (intense emotion) comes with a Hewland six-speed sequential transmission using pneumatics for gear changes, while the suspension adopts the racing-like layout using double wishbones and push-rods front and rear, with adjustable Bilstein dampers.
There's also a set of 380mm carbon ceramic brakes front and rear, clamped by six-piston calipers at the front and four pistons at the rear, as well as an adjustable engine computer that offers three power and response settings; Wet, Sport and Track. Each of these alter the traction and stability control and the engine's response. A further 12 traction control settings are also presented.
Apollo is planning to build just 10 examples of this insane hypercar. It's unclear exactly but it doesn't look like this is a road-worthy creation, at least not in most markets. Prices are set to start at around the US$2.6 million mark.