Just over one month before its scheduled debut at the 2017 Geneva Motor Show, McLaren's 650S successor known by internal codename P14 has been leaked in all its glory on social media.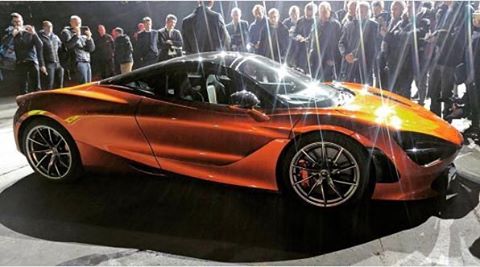 Thanks to Instagram user @woppum, the searing gold example was snapped at a presentation, with plenty of other photographers in the background as well, meaning this was probably not taken without permission.
The gold colour harks back to a hue used for the F1 hypercar that held a world top speed record spanning decades, while the upward swept creases on the side also evoke that car. Also evident is a new front end treatment for the brand and a floating black roof contrasting the body.
The car is set to use McLaren's latest 'Mococage II' carbon fibre monocoque, which promises to be both lighter and stronger than the carbon/steel hybrid used in today's Sport Series models.
720S is expected to be the showroom model name, which would allude to a 720PS output, or 530kW. A bump in displacement for the twin-turbo V8, from 3.8 litres to 4.0, is said to facilitate this, while active aerodynamics are also sure to feature to give the likes of Ferrari 488 GTB and Lamborghini Huracan a real fright.