We've had a sneak-peak at what Audi's all-new Q8 could potentially look like when it debuts next year, courtesy of a German publication's interview with Audi's head designer.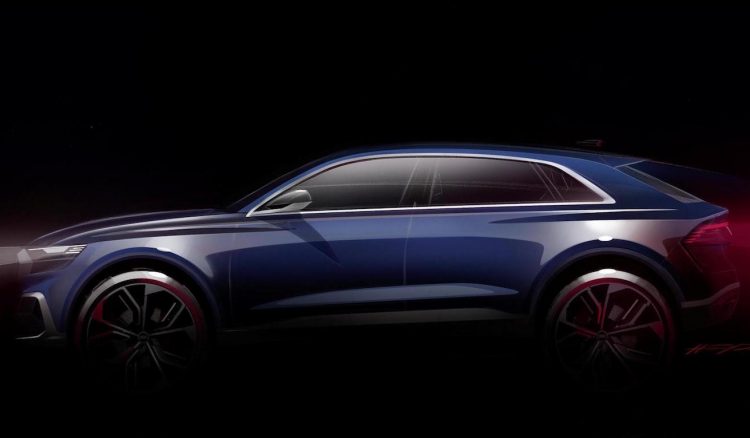 Speaking with Welt, the man in charge of Audi's styling Marc Lichte has given us a few clues as to what to expect from Audi's next batch of SUVs, in particular the upcoming Q8.
The Q8 is slated to premiere at the NAIAS show in Detroit, early next year, but chances are we won't see any on the road until production commences some time in 2019. It's set to be Audi's answer to vehicles such as the BMW X6 and Mercedes GLE Coupe.
The interview was accompanied by a small glimpse of Lichte giving us a small taste of the concept's front-end, along with two official renderings from Audi that show the front façade and side profile of the concept.
As you can tell by the images, Audi is leaning toward a less conservative, more aggressive form of styling, with the front grille looking particularly bolder than Audi vehicles to come out recently.
While Audi is remaining very much tight-lipped as to details surrounding the mysterious Q8, Lichte did mention to Welt that the A8 and Q8 will have very similar interior designs, as well as the removal of a lot of the vehicle's physical buttons in favour of touch-screen interfaces. Lichte says that this move marks a "a completely new operating concept that does not need a [physical] switch. All other models will follow this basic principle," he said.
We'll be able to report all the details when the Q8 concept breaks the veil at the NAIAS show in Detroit next month.