This full-tilt Lexus LFA GTE has just been spied in a garage, rumoured to be at the Valencia circuit in Spain where it is said to be undergoing testing. The LFA GTE is the full GT race car that will compete in the 2012 Le Mans 24 Hour race.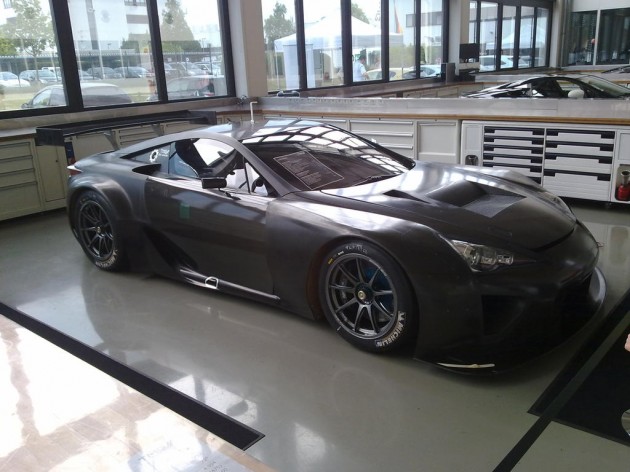 We've seen the Lexus LFA Nurburgring 24 Hour race car, but most of that is based on the standard LFA. This one features a full wide-body kit with gapping holes in the bonnet, bigger air intakes in front of the rear wheels and flattened out rear haunches with new intakes as well.
As far as official details go, there is none. These images have just surfaced on the net and show the car hidden away in Toyota Motorsport skunkworks.
Rumour has it it could feature an almost standard engine, since it already creates enough power for FIA restrictions, although race-ready modifications are likely, such as additional cooling.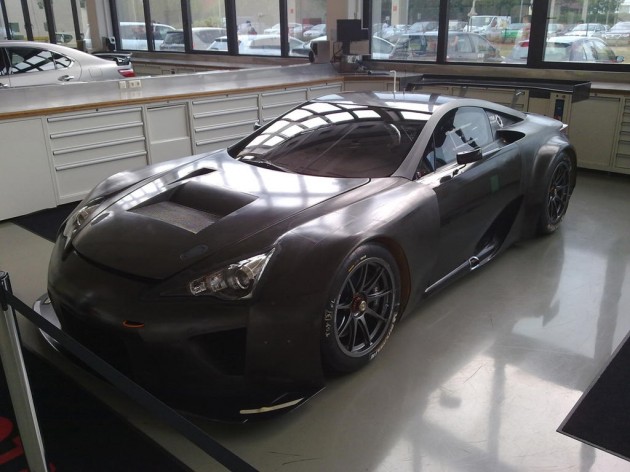 The car also appears to be wearing very fat slick tyres wrapped around race wheels. This is one stonking LFA.
It is expected to compete in the Le Mans series next year in the GT class up against various Porsche 911 and Ferrari GT race cars.
Very tasty.