Exciting news for Lexus fans. A new high-end sports car is said to be on the way based on the new LC, potentially adopting the LC F name that was recently trademarked.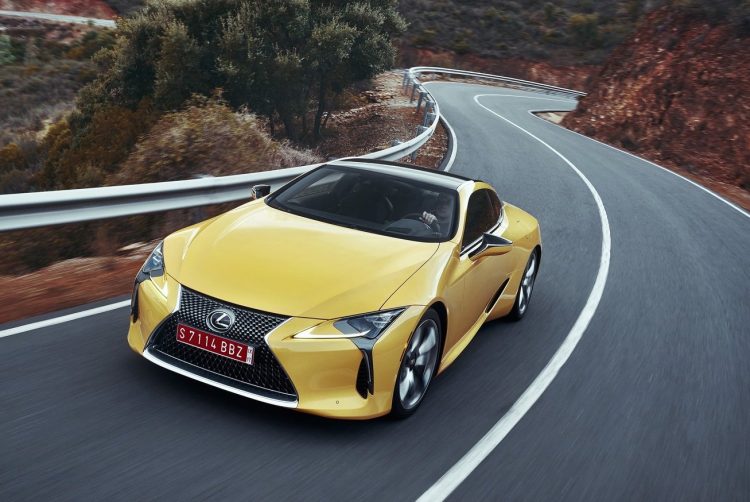 According to a recent Car and Driver report, Lexus is indeed planning an LC F, and not only that, it's planning to unveil it during the third quarter of this year. Specifically, at the Tokyo motor show in October.
This will be the third proper 'F' model in the current showroom, and only the fourth F model in the history of the brand. Not to be confused with 'F Sport' packages, which are merely trim level options for all models in the range, the LC F is set to be an outright sports car.
It's understood the new model will use – and debut – a brand-new 4.0-litre twin-turbo V8. The V8 is expected to eventually replace the 5.0-litre naturally aspirated unit in the current LC 500 (pictured), and RC F and GS F.
Sources have apparently indicated to Car and Driver that the new unit will be based on the 8AR 2.0-litre turbo four-cylinder – found in many '200t' models. Well, two of them to be more precise, merged together to make a V8.
The figures? It is only early days yet but they are talking in the region of 450kW, although it could be detuned for models down the 'F' foodchain, such as for the future RC F. Behind the engine is set to be the company's new 10-speed automatic, with rear-wheel drive.
Lexus fans should be very excited by this as its sports cars have long been at the lower end of the power spectrum, relative to the German rivals. This should help to put up a more competitive force.
The new Lexus LC 500 and 500h are very imposing machines as is, so the LC F should be quite a stunning piece to behold. Lexus is likely to affix various aero parts and aggressive tones to the LC for the F model, along with using bespoke sports suspension, brakes, and alloy wheels.
It might not be the LFA successor we've all been craving, however, it will probably come in at a much more affordable price while offering similar performance. We look forward to bringing you more details on this one.