While the next-gen 300 Series Toyota LandCruiser seems to be getting all of the spotlight, Nissan has been busy preparing a facelift for the 2020 Nissan Patrol Y62. Some spy photos and a video have surfaced online providing some clues of its design.
Sneaky images have surfaced on social media showing a 2020 Patrol in some kind of warehouse with a sheet draped over it. But the clever person behind the lens managed to peel back some of the sheeting to expose the new-look headlights and taillights.
The headlights look dramatically different to the fairly straight-forward beady-like items on the current model. Nissan has fit up some more complex C-shaped items, with what looks to be split main beams and LED daytime running elements following the C shape. There's also a fresh front grille with more chrome and black mesh behind, and a completely different bumper bar.
Around at the back there's some new-look taillights with a similar C-shape main red section, probably for the brake lights, and then clear indicator elements with a chrome trim piece running across the top. We can't quite see but we'd suggest there's an all-new bumper bar lower down as well.
A seperate video shows more of the rear end (see below), with an example spotted driving along without any camouflage at all. The video was likely taken in the UAE somewhere, although it is unclear. The video shows the sculpted new bumper bar, and also seems to confirm a very similar torso and doors as the current model.
The Nissan Patrol Y62 has been around now since 2010. Although there have been some minor updates to technology and very minor design changes, the big SUV has remained mostly the same. For this facelift, which appears to be a facelift and not an all-new generation, Nissan is likely to provide some fairly significant changes.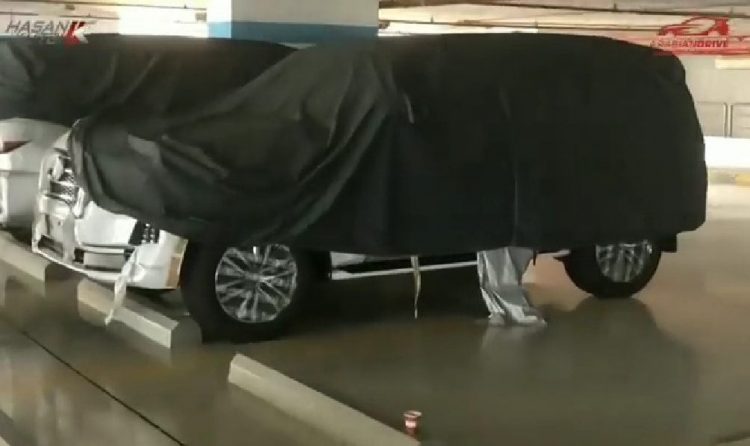 Inside we could be about to welcome a new dash design. The current model uses a very outdated touch-screen and is wrapped in late-1990s style wood trim, with lots and lots of chrome buttons knobs. To keep up with modern times Nissan will probably remove some of the buttons and instead incorporate functions into a new media screen, like it did with the GT-R R35 update a couple of years ago.
Under the bonnet the 'VK56VD' 5.6-litre naturally aspirated petrol V8 will probably carry over. We aren't expecting any big changes, if any. However, there is the opportunity to update its power from the current 298kW to 319kW as per the Nismo version sold in some overseas regions. In Australia the engine meets Euro 5 emissions standards, which is behind the current Euro 6 standard. If there are any changes to the engine we suspect they will be to improve the emissions rating.
Seen as though these spy shots show the new SUV in completed form and without any camouflage, we reckon a full unveiling is just around the corner. There is a chance the update could be for selected markets only. We'll have to await official word from Nissan and we'll keep you updated.