It's that time of year again, already. Yep, it's the 2015 International Engine of the Year awards, and this year BMW takes home the most awards and the overall engine of the year award.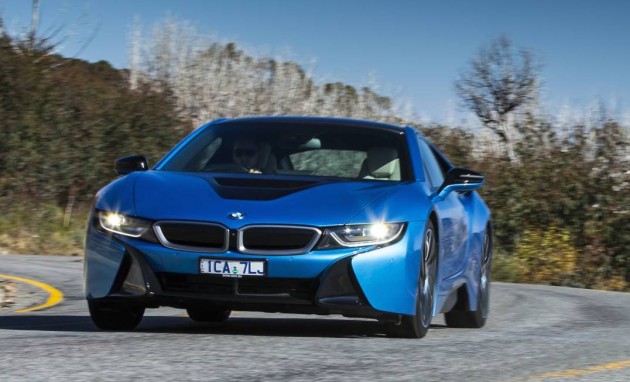 Starting with the sub-1.0-litre category, Ford's ingenious little EcoBoost three-cylinder collects the prize for the third time in a row. The engine is found in various compact models, including the Fiesta and EcoSport SUV.
Up a size, the 1.0-1.4-litre category went to Peugeot-Citroen's 1.2-litre VTi three-cylinder found in the 208 and 2008. It produces 60kW.
The 1.4-1.8-litre class went to BMW's 1.5-litre turbo three-cylinder which powers the BMW i8 and various other more mainstream models in overseas markets. The unit produces up to 170kW.
In the competitive 1.8-2.0-litre category, Mercedes's 2.0-litre turbo found in the A 45 AMG takes home the award. It produces a record-breaking 265kW, also found in the CLA 45 AMG and GLA 45 AMG.
Stepping up to the 2.0-2.5-litre class, it's Audi's 2.5-litre turbo. It produces 270kW. Not to be outdone, the 2.5-3.0 segment award went to the BMW M3 and M4 3.0-litre inline six turbo, producing 317kW.
In the big classes, McLaren's 3.8-litre twin-turbo V8 takes home the 3.0-4.0-litre category award, while Ferrari's 4.5-litre V8 found in the 458 takes home the above 4.0-litre category once again. It also won the 2015 Performance Engine of the Year award.
As for the 2015 International Engine of the Year, it goes to the hybrid setup found in the BMW i8. It features a 1.5-litre three-cylinder and an electric motor system, producing a combined output of 266kW. Runner up went to the Ford 1.0 EcoBoost three-cylinder.
See below for top three in each category, and head over to the engine of the year awards website for more.
Sub 1-Litre
Ford 999cc three-cylinder turbo – 444 points
General Motors 999cc three-cylinder turbo – 176 points
BMW 647cc two-cylinder – 163 points
1-1.4-Litre
PSA 1.2 three-cylinder turbo – 243 points
Volkswagen 1.4 TSI four-cylinder twincharger – 174 points
Volkswagen 1.4 TSI electric-petrol hybrid – 165 points
1.4-1.8-Litre
BMW 1.5 three-cylinder turbo – 262 points
Audi 1.8 TFSI four-cylinder turbo – 177 points
BMW/PSA 1.6 four-cylinder turbo – 158 points
1.8-2.0-Litre
Mercedes-AMG 2.0 four-cylinder turbo – 298 points
Audi 2.0 TFSI four-cylinder turbo – 226 points
BMW 2.0 four-cylinder turbo-diesel – 150 points
2.0-2.5-Litre
Audi 2.5 five-cylinder turbo – 347 points
Mazda 2.2 four-cylinder turbo-diesel – 184 points
Ford 2.3 four-cylinder turbo – 152 points
2.5-3.0-Litre
BMW M 3.0 straight-six twin-turbo – 246 points
BMW 3.0 straight-six turbo – 178 points
Porsche 2.7 boxer – 158 points
3.0-4.0-Litre
McLaren 3.8 twin-turbo V8 – 258 points
Mercedes-AMG 4.0 V8 twin-turbo – 239 points
Porsche 3.8 boxer six – 214 points
Above 4.0-Litre
Ferrari 4.5 V8 – 295 points
Ferrari 6.3 V12 – 222 points
Mercedes-AMG 5.5 V8 turbo – 140 points
Green Engine of the Year
Tesla full electric (Model S) – 239 points
BMW 1.5 three-cylinder turbo hybrid – 191 points
BMW full electric (i3) – 109 points
New Engine of the Year
BMW 1.5 three-cylinder turbo hybrid (i8) – 339 points
Mercedes-AMG 4.0 V8 twin-turbo – 209 points
Ferrari 3.9 V8 twin-turbo – 159 points
Performance Engine of the Year
Ferrari 4.5 V8 – 236 points
Mercedes-AMG 4.0 V8 twin-turbo – 148 points
Porsche 3.8 boxer six – 129 points
International Engine of the Year
BMW 1.5 three-cylinder turbo hybrid (i8) – 274 points
Ford 999cc three-cylinder turbo – 267 points
PSA 1.2 three-cylinder turbo – 222 points