Detroit Electric has released two images which show the final design of the upcoming all-electric SP:01 performance car. Due to begin production at the company's new UK-based facility in 2015, the two-door car sports a new fastback configuration opposed to the roadster style seen on the SP:01 prototype in 2013.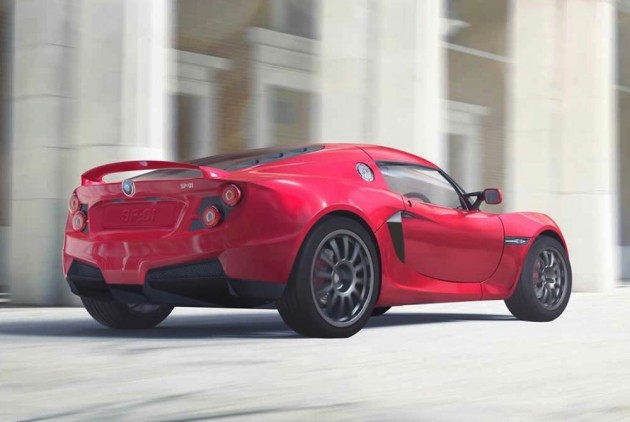 Power comes from a mid-mounted electric motor that produces 207kW and 280Nm, with a maximum range of 288km from its 37kWh battery pack. Weight has been kept to a minimum, weighing in at just 1175kg. The engine is powerful enough to send the performance car on to a maximum top speed of 250km/h.
Exterior design cues mostly stay in line with the Lotus Exige, on which the car is based, but uses a restyled front and rear. The rear incorporates a large spoiler and an under-body diffuser, and the front uses a new bonnet that has been reshaped to optimise airflow and aerodynamics to deliver improved 'on-the-limit road-holding'.
The car's battery packs live in a protective composite casing which forms part of the car's structure. Performance-wise, Detroit Electric has stated "its high-power electric motor will propel the car to an impressive 155mph (249km/h) top speed and a 0-60mph (96.6km/h) time of just 3.7 seconds".
Jerry Chung, head of design at Detroit Electric, said,
"The final design of SP:01 incorporates signature Detroit Electric design DNA, carried over from the prototype model we revealed last year. Coupled with many motorsport visual cues, the new fastback design, bold face and sharp contours evoke the company's vision of pure electric performance."
Detroit Electric was revived in 2008 by Albert Lam, former group CEO of the Lotus Engineering Group and executive director of Lotus Cars of England. His vision was to build an electric car that integrates aesthetics, innovative technology, excellent handling and performance. If you're interested in owning one, Detroit Electric is currently taking orders.