The Lexus F brand is celebrating its 10th anniversary this year, following the launch of the awesome IS F back in 2008. To mark the occasion, Lexus is putting on a special display at the 2018 Goodwood Festival of Speed next week, in the UK.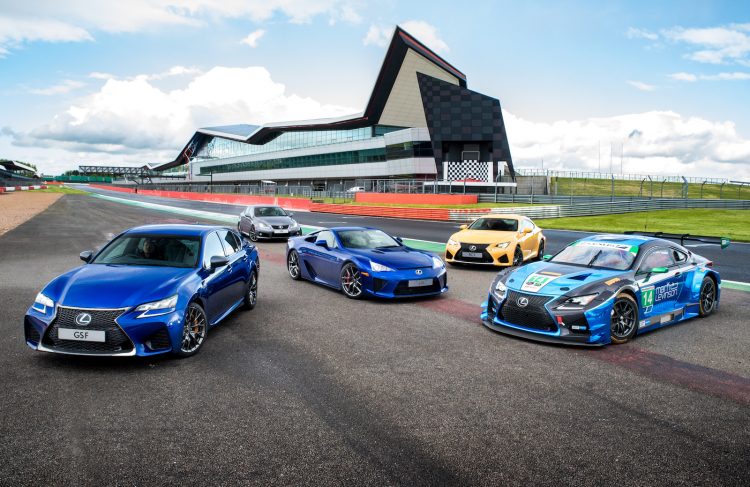 The F brand was set up so Lexus, a brand synonymous with pure luxury and prestige, could start competing in the sports car segments. And to kick it off, it had perhaps one of the most iconic sports coupes set in its sight; the BMW 3. And Lexus F answered with the IS F – one of our favourite cars of all time.
Of course, this open the door for a range of performance models, including the screaming LFA V10 supercar, and then more recently the RC F V8 coupe and the GS F V8 super sedan. Examples of all four vehicles will be on display at the Goodwood event for showgoers to check out.
It won't be just a static display. Lexus is also planning to show off its RC F GT3 racing car during the hill climb runs. Five-time Daytona winner and former LFA development driver Scott Pruett will pilot the racer for the sprint up the famous Goodwood driveway.
Additionally, The Grand Tour test driver Abbie Eaton will help us remember the sensational soundtrack of the Lexus LFA by piloting one for a fast stint up the hill. Lexus is planning to give the RC F 10th anniversary special edition its dynamic debut during the runs as well.
Lexus Australia confirms that the RC F limited edition, as well as a GS F limited edition, will go on sale locally later this year. These feature an exclusive blue interior, with the body coated in a fashionable matte grey tone. Prices will be announced closer to launch.
After 10 years in service, the future of the F brand is unclear as this stage. There is some belief the GS sedan may not live on for another generation, following the huge demand for SUVs. If this is the case the GS F may become obsolete. The RC F might become the only F model in mid-term future.
There is a hope that Lexus might reintroduce the IS F sedan with the next generation, but nothing has been formally confirmed. Such a vehicle would go very nicely with Lexus's new 3.5-litre twin-turbo V6, as reported a couple of days ago. But we'll have to wait and see, as Lexus hasn't officially revealed any plans just yet.
For you chance to see the F models, pen the 2018 Goodwood Festival of Speed into your diary. It runs from next Thursday, July 12, until the Sunday, July 15.