You've got the BMW X2, X4, and X6 to fulfil the four-door coupe SUV market segment, but what if you want something even larger? Don't fret, the BMW X8 is coming soon, according to a recent report.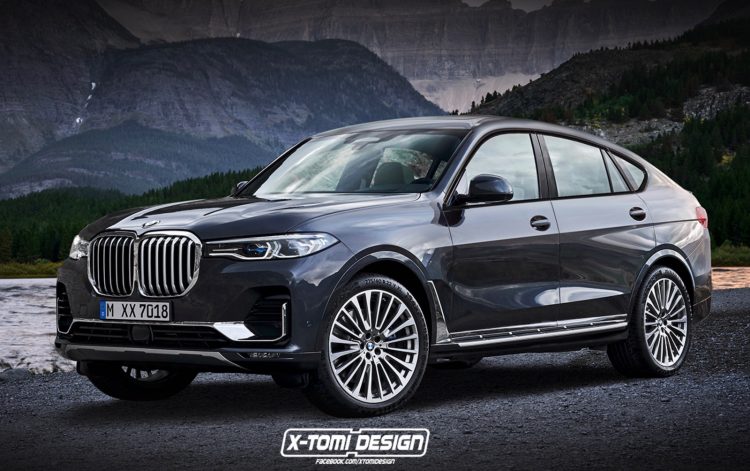 According to a post by BMW Blog, BMW has already commenced production of early prototype X8 models. These are based on the grand new X7, only instead of a wagon-like cabin profile there's going to be a swooping four-door coupe theme – a suggestive look into the design is provided by the rendering above, by X-Tomi Design. Based on the X7, the X8 is set to adopt the largest form of BMW's CLAR platform.
It's understood BMW is preparing at least three variants of the X8, with talk of a proper X8 M model sitting at the top of the range. Chances are the M model will feature the 4.4-litre twin-turbo V8 from the M8 Competition, producing at least 460kW. However, the X8 is expected to come in as the most expensive BMW model, and thus could feature some more unique touches.
There's also speak of an M Performance model. But not just an M50i version with the 390kW V8, like in the X7 M50i. Apparently, BMW is developing a potent inline-six plug-in hybrid for the X8, known as the X8 M45e. The report says this unit could produce more than 300kW and 600Nm. Being a plug-in model means it would offer an electric driving range, although such figures are yet to be uncovered.
In other areas, the X8 will no doubt come in as a very high-end luxury vehicle. It'll be part of the 8 Series family, which is the sportier, more elegant cousin of the 7 Series family. Expect lots BMW Individual options inside, exclusive materials and fixtures, and ultra high-end audio and media.
It is only early days yet and we haven't seen any prototypes out in the wild. But this is likely to change over the coming months. Market entry probably won't happen until at least later in 2020 or 2021.