Are you looking to buy the most powerful hot hatch around? Audi has trumped the until-now most powerful production hatch, the Mercedes-Benz A 45 AMG (265kW), with the new Audi RS 3 Sportback.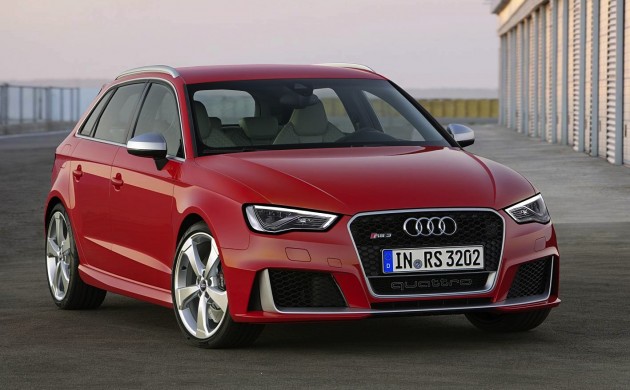 Instead of turning to Volkswagen Group's 2.0 EA888 four-cylinder engine, as used in the Audi S3 and TT, Audi quattro decided to stick with the famed 2.5-litre turbo five-cylinder engine. Output stands at 270kW and 465Nm, making it the most powerful version of the 2.5, even overshadowing the TT RS plus (265kW).
From the engine, power is directed into a seven-speed S tronic dual-clutch automatic transmission and into a quattro all-wheel drive system. Flat out, the 0-100km/h sprint can be achieved in just 4.3 seconds. This easily makes it the quickest production hatch ever made.
Engineers have concentrated on maintaining efficiency despite ignoring the downsizing trends, resulting in an official NEDC average consumption of just 8.1L/100km. It might seem like a lot for a small hatch but you have to remember this is as quick as some Ferrari and Porsche high-end sports cars. Prof. Dr. Ulrich Hackenberg, board member for Technical Development at Audi AG, said,
"There is a long tradition of five-cylinder engines at Audi. In the 80s, they turned Audi into a sporty brand, both in motor sports and in production. The new Audi RS 3 Sportback features the latest generation of our 2.5 litre, five-cylinder engine – the most powerful production engine in the modular transverse matrix."
Aside from the astonishing powertrain and on-road performance, the RS 3 comes with various 'RS'-themed highlights for a more exclusive look and feel. There's a set of 19-inch alloy wheels, a unique bodykit and spoilers front and rear, sports suspension and brakes, and a clever torque-vectoring differential which allows, according to Audi, drivers to perform "controlled drifts, if desired". Audi is also offering a carbon ceramic brake option – the first ever to be available on a premium hatch.
Prices for the new model are yet to be announced, however, Audi Australia has confirmed the super hatch will go on sale locally during the later parts of 2015. As a guide, the Audi S3 Sportback is on sale from $59,900.