McLaren has lifted the veil on a super-exclusive MSO creation known as the HS, based on the 650S which makes up part of McLaren's Super Series range.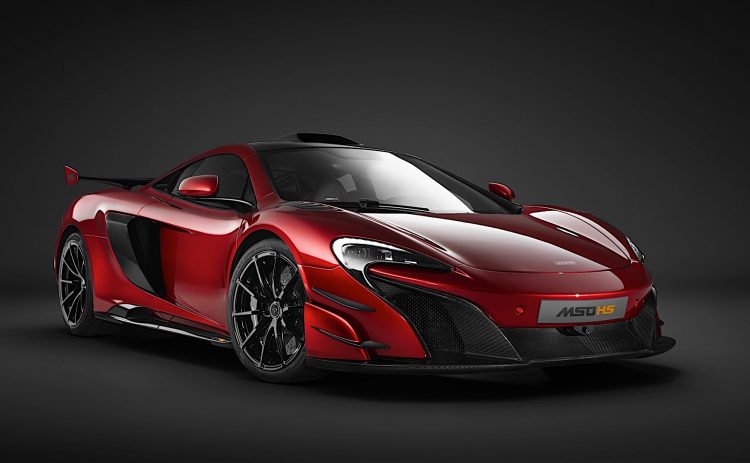 HS represents High Sport, which is a bit of an understatement considering the muscle this car is packing. It is powered by a tweaked version of the McLaren 650S 3.8-litre twin-turbocharged V8, with output now standing at 506kW/700Nm, peak torque is available all the way through 3000-7000rpm. That's 9kW more than the insane 675LT, with torque remaining the same.
The HS comes with a full carbon fibre package, now with the roof and hood getting the lightweight treatment over other McLaren models, with the glass used for the windows replaced with a thinner, lighter sheet of polycarbonate. The wheels also receive a weight-saving touch.
McLaren has drawn inspiration from the P1 GTR's monstrous rear wing for the HS, which the company says now produces just under 220kg of downforce at 241km/h. It also acts as an air-brake under harsh deceleration. To match the power upgrade, there's been some fiddling to the carbon-ceramic braking system too.
The HS is obviously a track-focussed vehicle, with owners set to benefit from McLaren's extensive F1 knowledge through the latest on-board telemetry system (MTT) that provides a mammoth amount of data for you to ponder after a day at the track. The system also works alongside three cameras, facing front, rear and over the driver's shoulder – the latter could well provide an interesting driver's eye angle of a very expensive crash.
How can you get one? Quite simply, you can't… Unless you've already received a letter from McLaren, all 25 units to be made are accounted for.