Kia has whipped the covers off its first fully electrical vehicle at the Chicago Auto Show called the Soul EV. Featuring state-of-the-art battery technologies, the Kia Soul EV was unveiled alongside the 2014 Optima Hybrid and Niro hybrid concept.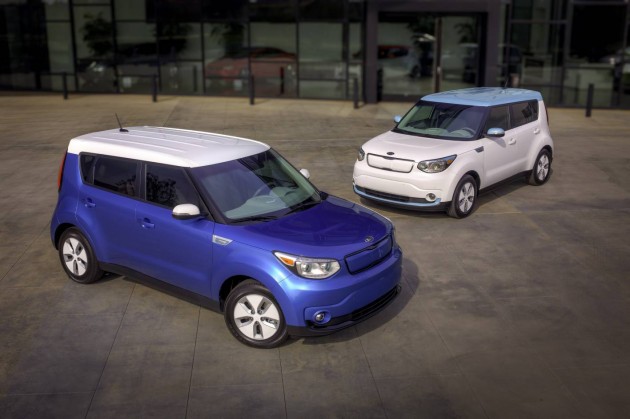 Scheduled to go on sale in the United States later this year, the Soul EV's 27kWh air-cooled battery powers an 81.4kW electric motor, producing 284Nm of torque. According to Kia this setup puts the battery's range at around 80-100 miles (128-160km) of real world driving. Kia reckons the car will accelerate from 0-60mph in under 12 seconds and will have a top speed of 90mph (144km/h).
The battery setup includes a third-gen regenerative braking system to capture 12 per cent of the car's kinetic energy and dual charging ports, which are found behind a sliding door in the front grille. The battery itself is mounted below the floor, giving the Soul EV a low centre of gravity and a 5.9 per cent improvement in torsional rigidity over its petrol cousin.
The electric version shares many of its looks with the petrol Soul, with new features including a different front fascia for the charging ports, colour accents in the front and rear fascia, projector headlights and LED positioning lamps and taillights. Kia has also used a range of bio-organic materials in the Soul EV's interior, including plastics created from cellulose and sugar cane.
There's no word on whether this car will hit the Aussie market, as so far it'll only be sold in California and Oregon in the west and several eastern states including New York, New Jersey and Maryland.