For the 2013-2014 Nisan GT-R update, Nissan has managed to improve the already incredible supercar by making further tweaks to the engine and its hardware, and revising the suspension for even better handling.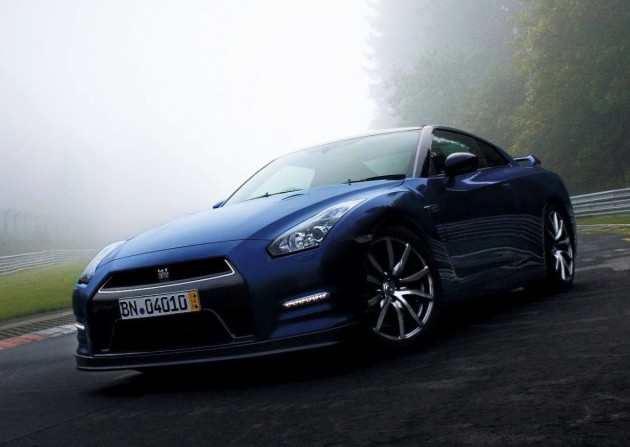 The R35 Nissan GT-R has literally been like a computer program since its launch in 2007, coming out each year with an update. It's just a pity the revisions can't be 'downloaded' for those who already have one from last year.
You might remember a few weeks ago Nissan was spotted testing a couple of prototype GT-Rs on the Nurburgring. It was unknown at the time what they were exactly, however, we now know this is the result of that testing.
The update comes with a number of finely tuned changes aimed at improving throttle response, and improving handling and ride. One of the outcomes from the changes is an even quicker 0-100km/h sprint time.
The GT-R now smashes it in just 2.7 seconds, down from the current 2.8 seconds. That makes it very nearly as quick as the ultra-expensive and ultra-exotic, not to mention ultra-powerful (1200hp/880kW), Bugatti Veyron Super Sport (2.5 seconds).
Around the Nurburgring, Nissan says the update has also allowed the GT-R to shave over two seconds from its lap time. The 2013 model gets around the 20km-plus circuit in just 7:18.6, compared with the current MY12 (model year) time of 7:21.
Power from the 3.8-litre twin-turbo V6 remains at the same output of 404kW.
The new model will go on sale in Europe during the first half of 2013. It's expected to arrive in Australia a short time afterwards.
Nissan has released the following details for an easy understanding of the changes that have been made to the MY13.
2013 Nissan GT-R updates (called the 2014 model in some markets):
Engine
New high-output injectors more concisely control fuel injection to improve mid-range and high-rpm response
A new relief valve for the turbocharger bypass suppresses the rapid decrease of forced injection pressure, helping to sustain response
A new oil pan baffle helps maintain more stable oil pressure and reduces rotational friction especially during high-performance driving
Chassis
After measuring the roll centre of the GT-R when cornering and taking deflection of the bushes and tyres into account, engineers have updated the suspension set-up with revisions to the dampers, springs and front anti-roll bar to lower the centre of gravity
New cam bolts have been installed on the front suspension to improve camber accuracy and stability when cornering
The torque carrying capacity of the driveshafts to the hub bearings has been increased to improve reliability in high-stress situations, such as track driving
Body
Reinforcements have been added to the dash panel bar and instrument panel member resulting in increased body rigidity and better suspension control