The new Ferrari California T has been revealed. It's unconfirmed at this stage if it is the 149M Project the company has been teasing us about over the past few weeks.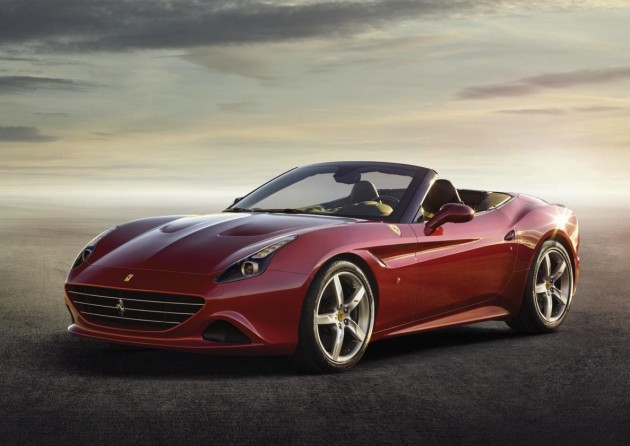 Borrowing its design language from the F12 flagship, the California T is an updated version of the California using a new front end, more aggressive rear end, and, you guessed it, a turbocharged engine.
The engine is derived from the Maserati 3.8-litre (3855cc) twin-turbo V8. In the Ferrari it produces 412kW (560CV) of power and a whopping 755Nm of torque. This offers significantly more power and torque than the current 4.3-litre naturally aspirated V8 California (338kW/485Nm).
Ferrari says this is the first time virtually zero turbo-lag has been achieved from an engine of this type. The engine uses a Variable Boost Management system to optimise response and power delivery.
Out on the road, the California T is able to conquer 0-100km/h in just 3.6 seconds. Despite the cracking performance, fuel economy is improved by 15 per cent compared with the current California (13.1L/100km).
Interestingly, Ferrari wanted to ensure the turbo engine produces an exhilarating Ferrari V8 soundtrack. To achieve this, the engine uses a flat-plane crankshaft, special manufacturing techniques for intake components, and a three-piece cast exhaust manifold and turbo housing.
It will go on sale later this year. Australian prices are yet to be announced.