So, you've spent hundreds of thousands of dollars on a brand new supercar. Congratulations, your new toy is bound to catch everyone's attention, and jokes about the size of your anatomy are not far behind. But there's a problem, what if you drive past another supercar that's just like yours? Here are PerformanceDrive's top 10 most flamboyant cosmetic car modifications – in no particular order – that are bound to stand out no matter where they are parked.
'Mystere' Range Rover
For $92,000, German modifier Hamann offers to separate your Range Rover from the pack with a carbon fiber hood, front, rear and side body work and larger alloys. To top it off, a nice bright purple chrome wrap. One thing is for sure, you won't be looking for too long in the supermarket car park.
'Furrari' Ferrari 599
London. It's a cold and miserable place sometimes, but this wealthy Mr or Mrs knows how to keep warm and do it in style. What better way to stay warm than matching your new velvet suit or vest with your 456kW V12 supercar. Although, this decision may have been a little short-sighted; velvet and rain go together about as well as alcohol and heavy machinery. The owner was actually caught in some drizzle which made the Ferrari look like a wet dog.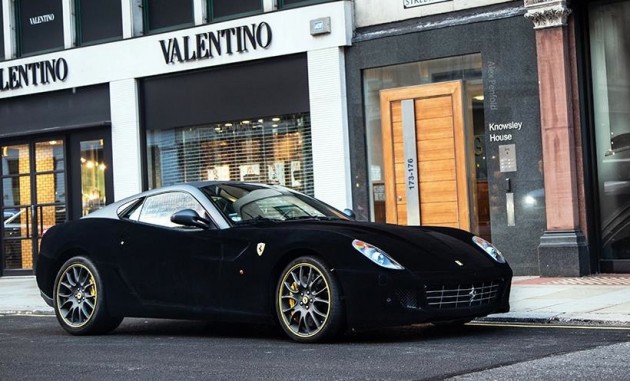 Mansory Porsche Panamera Turbo
Swiss tuning house Mansory presents its latest take on the Porsche Panamera. The stock Panamera has polarised people since its 2009 unveiling. Thankfully, Mansory has ended that split and created a model that we can all agree hits every branch of the ugly tree. The silver lining is that Mansory's modifications stretch further than just aesthetics, with the 2014 model's twin turbo engine pushing out 500kW.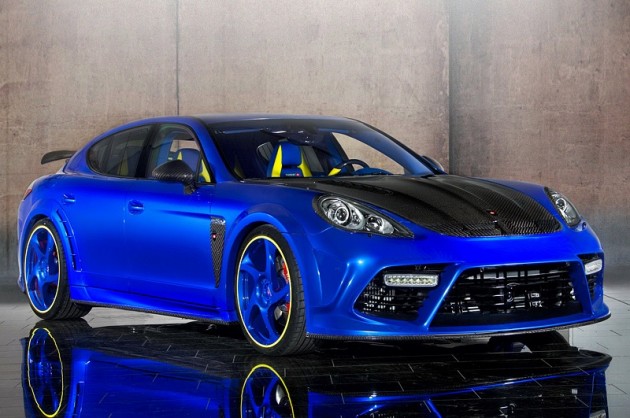 MAFF 'Muron' Porsche Cayenne
Porsche's bold statement in the SUV department ensured it could barely make enough to keep up with customer demand. To ensure Cayenne owners could maintain their individuality, Romanian tuning house MAFF can give your Cayenne the 'Muron' package. Fiberglass or carbon fiber (depending which one you can afford) covers the body, with Alcantara and carbon fiber splashed all over the interior. Look at that mouth. It looks like a grinning shark about to eat you.
Gold-plated Porsche 996 911 Turbo
The first of two Russians on the list brings to you a 911 Turbo cabriolet which on top of the cost of a new 911 Turbo, comes with $500,000 worth of gold leaf plating. For an extra touch of luxury, even the floor mats are made with gold.
Crystal covered Mercedes Benz CLS 350
Russian business student Daria Radionova covered her Mercedes CLS in just under 1,000,000 Swarovski crystals. Just days ago she auctioned the car on eBay with a sale price of just under AU$290,000.
Golden Mercedes SLR McLaren
More than 35 men, 30,000 man hours, 600 rubies and five kilograms of gold went into this $5.2 million SLR. The wheels are 24 carat gold, as are the door sills. On the inside there is a jeweled indicator stalk, gold trimmed steering wheel and ruby covered switchgear. On the outside there are 25 layers of red paint with five kilograms of gold dust mixed in, just because. That's a lot of extra weight for an already chunky car, so power is bumped up to 744kW. The Swiss businessman responsible for this sold his creation for around AU$10 million.
The Hummer-turned-Bentley 'Bentler'
One of Dubai's rich and elite is responsible for the 'Bentler'. The story behind its conception is that a Dubai-based man was upset that Bentley would not make an SUV. Even for him… So he took matters into his own hands and nine months later a Hummer was somehow turned into a slightly more outrageous SUV that sort of looks like a Bentley.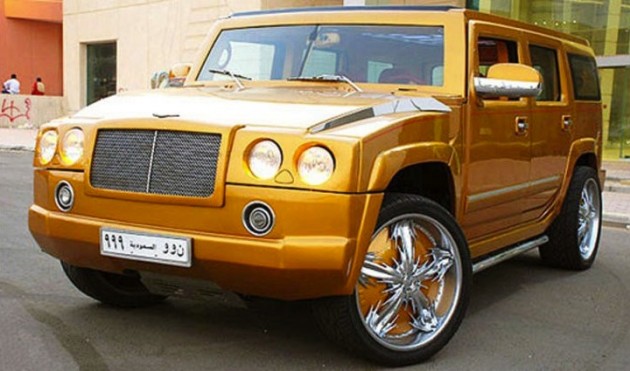 Hamann Mercedes Benz G55 AMG 'Typhoon' by SSC
This one-off creation was put together for a Bulgarian actor by tuning house SSC. It also received influence from German tuning house Hamann. 0-100km/h arrives in five seconds thanks to a 447kW engine sitting in front of the driver. You can forget going off road in this though. If the ultra low profile tyres get you anywhere, the extra extended front spoiler will certainly snag a few bumps.
Camouflaged 1954 Mercedes Benz 300SL Gullwing
A Japanese fashion designer called Nigo apparently bought a classic 1954 gullwing directly from Mercedes Benz, and had all of its sublime curves hidden behind camouflage. Not all bad news though, Mercedes was nice enough to supply a brand new 6.0-liter V8 for the iconic coupe.