What's the quickest way to farm? A good place to start is with this specially-made JCB tractor called the JCB GT, which has just broken the land speed record for a backhoe. A top speed of 116km/h was recorded in Bathurst.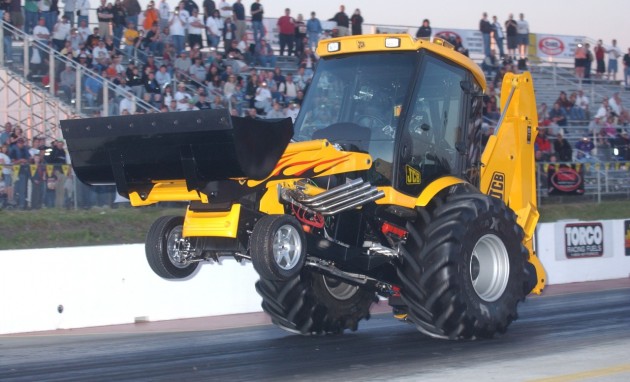 Out in Bathurst in western NSW, the JCB GT digger hit a frighteningly fast top speed of 116.82km/h, even with the huge bogger tyres on the back and the regular car-sized wheels on the front.
Now, obviously, this digger is not powered by the normal smoke-blowing diesel engine you'd expect in such heavy machinery. Instead, it gets a 7.4-litre Chevrolet V8 producing over 746kW. Torque levels haven't been mentioned but you can imagine the kind of tarmac-tearing capability on offer here.
To help produce this colossal power output the engine is supercharged and breathes through eight 20-inch pipes that poke out from the side of the engine. The backhoe also features a special lightweight aluminium loader and digger, with a fibreglass body.
Record evaluators, Guinness Book of Records, initially set a benchmark speed of 110km/h, however, the earth-moving machine hit 116.82km/h. This speed places it in the book of records as the fastest backhoe loader in the world. It was driven by JCB demonstrator driver Matthew Lucas, also known as 'The Dig'. He said,
"It was great to be involved in such an exciting project and a real honour to be behind the wheel when we achieved the record."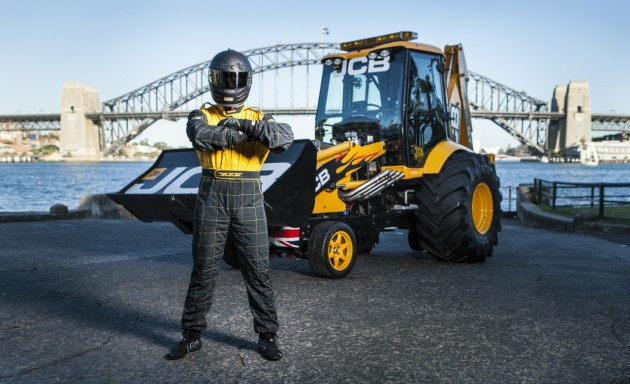 JCB has been exhibiting the GT tractor in Australia with all kinds of performance demonstrations. It will finish off its local tour at the final round of the V8 Supercar championship in Sydney, the Sydney NRMA 500, which takes place from December 5 to 7.