Like the Honda CR-X of yesteryear, the 2012 Honda CR-Z Luxury is a compact, front-wheel drive sports coupe. It's not out to smash quarter mile times or set blistering laps at the local track, it's simply a fun, lightweight car that everyone this side of a racing outfit and helmet can enjoy. This new hybrid model is also a great base for tuning if you want to get serious.
2012 HONDA CR-Z LUXURY – PROS AND CONS:
PROS:
Intelligent and interesting powertrain
Lightweight feel with nimble handling
Respectable acceleration yet very fuel efficient
Modern styling – gets plenty of looks
CONS:
Not quite as fuel efficient as other hybrid models on the market
Rear seats can't really function as seats. Shelves, storage, maybe
Weak air conditioning system – needs to be on higher settings for optimum comfort
Low nose –  even for a sportscar – can scrape on mild driveway entrances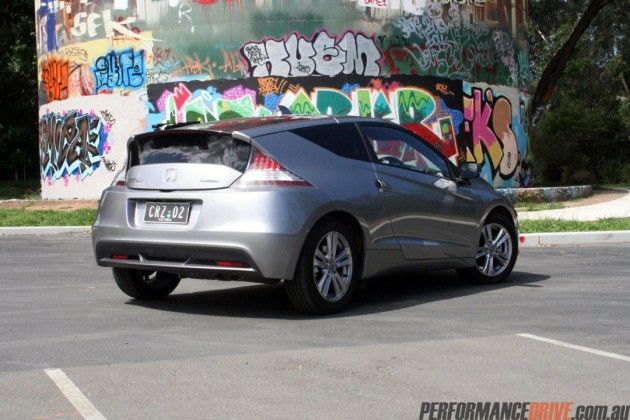 2012 HONDA CR-Z LUXURY – WHAT'S IT LIKE TO DRIVE:
The CR-Z may carry a similar personality and even design theme to the CR-X, however, under the bonnet things have moved on quite a bit. It's powered by a 1.5-litre i-VTEC four-cylinder petrol engine as well as an electric hybrid motor, which Honda calls Integrated Motor Assist (IMA), both combining to produce 91kW and 167Nm of torque (the IMA system can produce the equivalent of 200Nm alone). The package is tied up with three different driving modes – SPORT, NORMAL and ECON – selectable in the cabin. Each of these settings change the characteristics of the powertrain very noticeably.
In SPORT mode, the 1.5-litre petrol engine is used a lot. While there is assistance from the electric motor when you start to put your foot down, in most situations the petrol motor is up and roaring. It's the mode you select if, like us, you like the sound of a combustion engine, more specifically, one that you can control with the delicate touch of your right foot; this mode offers maximum throttle response out of the three modes.
In NORMAL mode, both the petrol engine and electric motor are put to use, however, it combines the two in a very fuel-efficient way. When you set off from the lights, the electric motor does a lot more work than when in SPORT mode (as indicated by a neat little charge/assist readout on the left side of the instrument cluster). It still uses the petrol engine much of the time, but the throttle isn't as responsive or sensitive to your foot movements, unlike in SPORT where every touch is heard and felt.
In ECON mode it is simply all about saving fuel and energy. This doesn't necessarily mean it's a setup that predominately relies on the electric motor either. In most situations, both the electric motor assist and petrol motor are used, almost like in Sport mode, except there is significantly reduced response from the go pedal and acceleration. The upshot of course, the mode merely sips petrol. We drove around in ECON for around 70km and according to the dash readout it was consuming 5.6L/100km.
Overall, we found NORMAL mode to be the best compromise. Being 'Performance'Drive we hear you gasp, 'huh?', but bear with us on this. In NORMAL mode, the Honda IMA is relied upon a lot, especially during day-to-day 'normal' driving, AKA, what we do most of the time. It's in this mode that the full 200Nm-equivalent from the electric motor can be exploited. From the traffic lights, it's actually quite fun getting up to the speed limit so effortlessly and almost silently. In no other mode did we see the electric assist gauge move so high more of the time, in other words, even in ECON mode, less of the electric motor seems to be used as it's still not technically at its maximum eco-environmentally-friendly best unless it's using no energy at all – switched off. So at all costs, energy is conserved in ECON.
In NORMAL mode, the powertrain seems less determined to suck away any fun you might want to have, and the full torque of the IMA system is accessible. It actually behaves like a turbocharger. If you only touch the accelerator off the mark and leave it there, you can feel the 'boost' wind up – again, evident by watching the charge/assist gauge, kind of fun – and pull the car. So you get the performance of easy acceleration, which gets you up to speed quite quickly, but at the same time, you're using the full capacity of the electric motor for this so fuel consumption is excellent.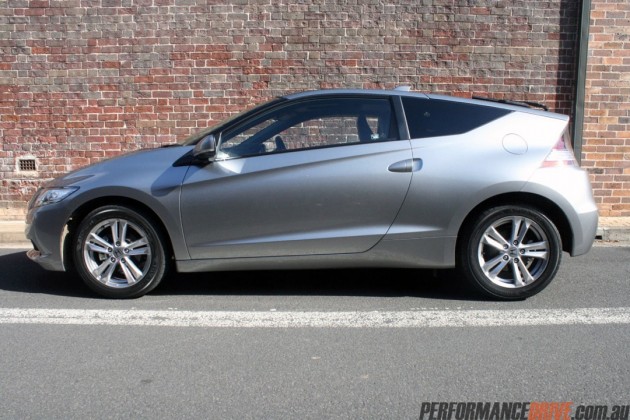 Of course, if you're about to rip into a spirited section of road, the SPORT mode is the way to go. We did 0-100km/h times in all three modes back to back, at the same time of the day, and SPORT did it in the shortest time (8.4 seconds). Right behind was NORMAL (9.2 seconds), and then ECON (10.2 seconds) which, as mentioned above, is really only if you're on your last few dollars before your next pay day comes around. All modes are tied in with the CR-Z's stop-start system which switches the petrol engine off when you pull up to a stop, and seamlessly restarts it when you take your foot off the brake.
Through the bends the 2012 Honda CR-Z Luxury handles very well indeed. It's light on its feet and darts in and out of corners with very little nervousness or hesitation. The engine could be more powerful, but the amount of power on hand certainly doesn't hinder the overall fun driving experience. Thanks to the low weight (1190kg) and taught suspension, handling is its trump card. It could do with some larger wheels with lower profile tyres though, as there is a hint of tyre roll and flex at initial turn-in from the 195/55 tyres.
The transmission is a continuously variable type (CVT), which basically means there's no gear change. It's kind of strange to grasp upon first experience with such a gearbox, as your ears are constantly anticipating that familiar change-up on take off. Instead, the engine and transmission's computer takes your accelerator depression into account, and dials up appropriate revs to match your intentions.
If you floor it, the engine and electric motor will kick in, while engine revs stay at around 5000rpm until you're done. It's quite weird. It does, unfortunately, destroy some of the sportiness of the car. There are paddles behind the wheel for an almost-normal automatic shift, although, it's not the slickest of shifts. (The Luxury is only available with this CVT. Stay tuned for our full review of the base model with the six-speed manual.)
2012 HONDA CR-Z LUXURY – INSIDE SPACE AND COMFORT:
Inside, you're quite aware that this is a special car. The dash layout is futuristic and carries over some of the original concept car's designs. There's a neat little cluster for the air conditioning to the left of the steering wheel, while on this Luxury variant a central LCD infotainment display handles the stereo settings and satellite navigation.
The Luxury variant also gets a pair of leather-wrapped sports seats. These provide ample hip-hugging support and are comfortable for long journeys. The rear seats however, are not leather and are only suitable for children, and for those with no head and legs. Headroom up front is acceptable for this vehicle segment, but taller types may find it a bit tight, with legroom as well.
Boot space is fairly limited, but if you're in the market for a lightweight sports coupe, this is probably not something high on your criteria. The IMA's battery pack is mounted beneath the boot, which does result in a shallow-ish floor. Compared with its rivals in the market – a list that is very small at the moment – it's what you can expect from a sleek hatch.
Speaking of the hatch design, the 2012 Honda CR-Z Luxury features a twin-window layout with a flat glass panel inserted in the rear of the hatch, just like the original Honda CR-X. On one hand, the cross beam through the middle of the two windows does hamper rearward vision and put you off when looking in the rearview mirror (image below). On the other hand, if Honda didn't adapt the second flat window and left only the conventional sloping type, vision would have been very poor. So the design not only sticks to tradition, it's also safer than the conventional alternative.
Standard features for the 2012 Honda CR-Z Luxury include climate control – which seemed a bit weak in our opinion, as if the vents were too small or perhaps short in count – dusk sensing headlights, electronic brake force distribution, fog lights, heated front seats, rain sensing wipers, traction and stability control and a reversing camera. There's also Bluetooth connectivity and USB/iPod support, and a glass moonroof.
2012 HONDA CR-Z LUXURY – IS IT A WINNER:
As a technical showcase, the 2012 Honda CR-Z Luxury is a great package. It shows the world that sports cars needn't be eradicated completely for the sake of the environment. It's also a stunning package to behold, one that gets plenty of onlookers rubbernecking; much of the design is carried over from the concept car.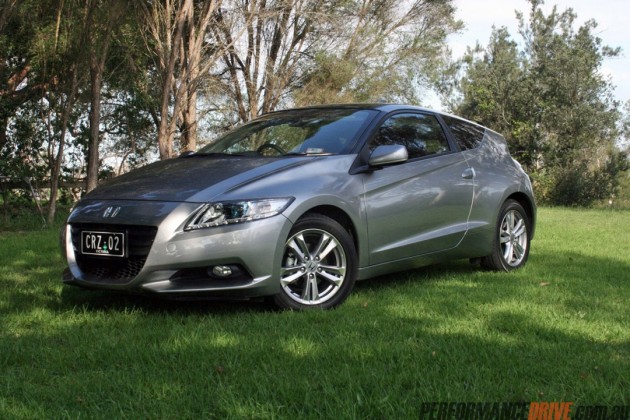 Should you buy one? With a starting price of $34,990 for the base variant, it is the second-cheapest hybrid currently on sale in Australia (behind the Honda Insight [$29,990]). That alone is enough of a reason for some. But since it is also a bit of a retro retake on one of the company's favourites, the proposition is even more appealing. If you're after something with loads of grunt and smile-inducing acceleration, we're afraid the CR-Z doesn't cater for that.
The Honda CR-Z is an overall winner though, as it is a pioneering car that keeps performance and sportscar enthusiasts in mind while taking part in the green car movement. It's smart, handles great, uses little fuel, and is wrapped up in a modern and attractive design. We encourage you to take one for a test drive, or even sit in one to check out all the nifty features.
2012 HONDA CR-Z LUXURY SPECIFICATIONS
MODEL
2012 Honda CR-Z Luxury
ENGINE
1.5-litre i-VTEC four-cylinder petrol, and Honda Integrated Motor Assist electric hybrid motor
ENGINE SIZE (cc) / COMPRESSION RATIO
1497cc / 10.4:1
BORE X STROKE (mm)
73mm x 89.4mm
POWER
91kW@6000rpm, 167Nm@1000rpm-1500rpm
POWER TO WEIGHT RATIO
13.08: 1 (kg:kw)
WEIGHT
1190kg
HEIGHT / WIDTH / LENGTH
1395mm / 1740mm /4080mm
DRIVETRAIN
CVT (continuous variable transmission), front-wheel drive
BRAKES
F: ventilated discs, single-piston calipers
R: discs, single-piston calipers
WHEELS
F and R: 16 x 6 inch, 195/55 R16
FUEL TANK CAPACITY
40 litres
FUEL CONSUMPTION
Tested combined average: 6.4L/100km
Official combined average: 4.7L/100km
PERFORMANCE
0-100km/h: 8.4 seconds in SPORT, 9.2 seconds in NORMAL, 10.2 seconds in ECON (tested)
PRICED FROM
$40,790 ($34,990 base model)
WARRANTY
3 year/100,000km
THE COMPETITION
MINI Cooper D (turbo diesel, $34,750, 0-100 9.7sec), Volkswagen Polo GTI (turbo petrol, $28,990/0-100 6.9sec), Volvo C30 DRIVe (turbo diesel, $36,990, 0-100 11.3sec), Lexus CT 200h (hybrid, $39,990, 0-100 10.3sec), upcoming Hyundai Veloster (due first half of 2012)