The new Jaguar XE mid-size sedan is on the horizon, set to blast through the popular premium segment with elegant styling, class-leading chassis dynamics, and all of the sophistication and class you'd expect from Jaguar.
This is the first mid-size sedan for Jaguar since the S-Type which went out of production in 2008. Jaguar has confirmed a range of technologies for the new model, including some that are a first in the class.
Starting with the chassis and suspension, the British company has developed something it calls Integral Link rear suspension. This layout will be the first in the segment, offering both lateral and longitudinal stiffness, superior to a conventional multi-link arrangement.
Many of the suspension components that make up the development are made from hollow-cast aluminium too, for an optimum balance between lightness and strength.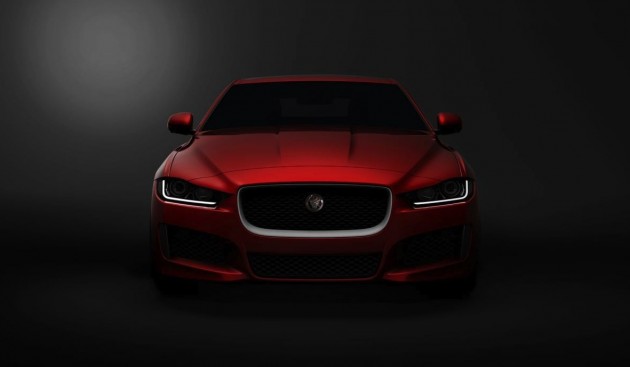 Up the front, the XE will incorporate a similar suspension setup that's seen on the $150k-plus F-Type super sports car. It's a double-wishbone layout designed for ultimate stiffness. Like the rear, many of the components are made from forged aluminium.
Ambitiously, Jaguar is promising a class-leading steering feel with the new model. This is a big promise, considering it will have to fight against the renowned BMW 3 Series and Mercedes-Benz C-Class.
The XE will come with the company's latest generation electric system, which, thanks to advanced software, offers a greater range of fine tuning than a comparable hydraulic setup. It also features variable steering damping with Jaguar Drive Control settings.
Lastly, Jaguar will be introducing a new technology called All Surface Progress Control. Essentially, this is the traction control system for the rear-wheel drive driveline which can help drivers pull away on very slippery surfaces. Jaguar explains;
"Developed with the input of decades of Jaguar Land Rover experience in off-road traction systems, ASPC can electronically gain traction with far less drama than a human driver can achieve. The system works like a low-speed cruise control to deliver optimum traction in the most slippery conditions without skidding and without the driver using the pedals."
The XE is anticipated to be Jaguar's best-selling model when it arrives on the market early next year. We'll be sure to bring you the first photos and further specifications upon its unveiling on September 8. Stay tuned.