A Ferrari Enzo crash that ended in the ocean during recent a Targa Newfoundland event has been captured on video. The modified Edo Competition Ferrari Enzo – FXX replica – was being driven by owner Zahir Rana and navigator Roland Linder at the time of the crash.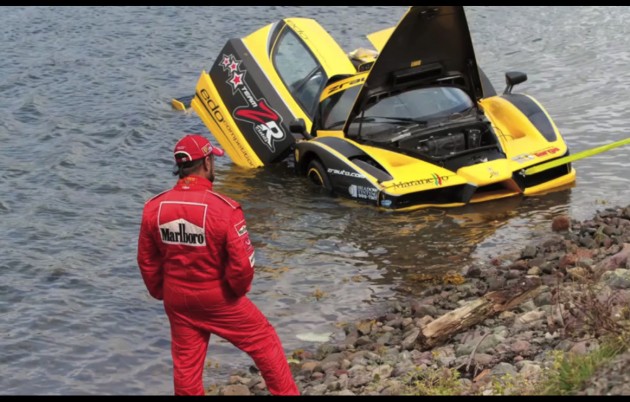 It's always unfortunate when it happens, especially to great cars, and as this Ferrari Enzo crash video proves, all can go terribly wrong in a matter of seconds. It seems Zahir Rana came around the right-angle corner and onto a gravelly surface.
A touch too much of the accelerator then sent the Ferrari Enzo into a slide. With not much room for error on a narrow part of the road, the big Ferrari Enzo had nowhere else to go than off the road, down an small embankment and into the ocean.
Fortunately, both Zahir Rana and Roland Linder were not injured during the Ferrari Enzo crash. As for the Enzo, it may be repaired and live another day. Click play on the video below for footage of the unfortunate Ferrari Enzo ocean crash.
Reports say this particular Ferrari Enzo was kitted out by Edo Competition and made to look like an FXX, while in the back sat an actual FXX engine. If this is the case, it's powered by a 6.3-litre V12 outputting 588kW of power and 686Nm of torque – up from the standard Enzo's 485kW 6.0-litre V12.