Infiniti is planning to unveil an "all-new model" at the upcoming Los Angeles auto show, sending out this teaser image to confirm the news and build excitement.
The teaser shows the front end and headlight design of the new model, incorporating the company's latest large grille treatment and modern LED headlight technology. This is the second teaser the Nissan-owned luxury brand has released, previously showing a silhouette of what looked to be an SUV of some kind.
All signs point to the expected QX50 medium SUV, which is set to rival the likes of the Audi Q5, BMW X3 and Jaguar F-Pace. In this position it will slot above the existing QX30, and is expected to be based on the latest Infiniti Q50 sedan.
In the latest statement accompanying this teaser, Infiniti says the new model will wear a fresh interpretation of the 'Powerful Elegance' design language. We can probably turn to the QX50 concept car (below) which was shown earlier this year at the Detroit auto show.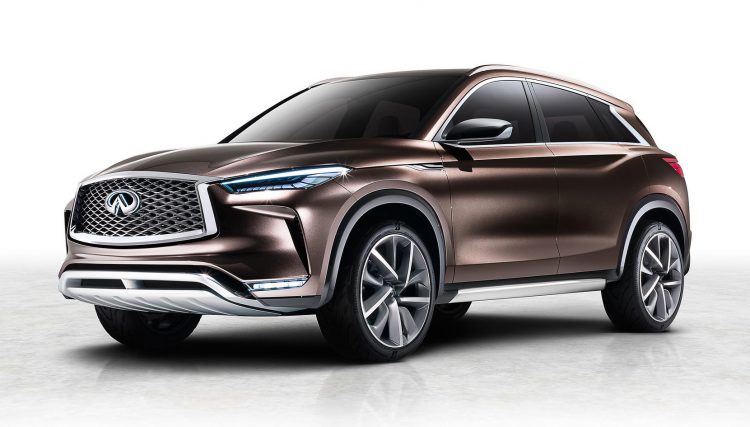 Knowing Infiniti, plenty of the major design characteristics of the concept are likely to carry across to the road-going version (aside from those crazy headlights), including the sculpted body lines and rear wheel arches, swept-up front underside, and black-outlined wheel arches for that SUV look. Alfonso Albaisa, senior vice president of design at Infiniti, spoke of the teaser, saying:
"As with all INFINITIs, we have been inspired by our desire to drive, expressed with power and artistry. With this all-new model, inspiration comes from striking the perfect balance between lust and logic. At a glance, seamless and sculptural, getting closer to the car reveals an ingenious blend of proportion and space."
Back when the concept was unveiled Infiniti said it will be the first production car in the world to feature a variable compression ratio engine, in the form of its new VC-T unit. The compression ratio is able to alter between 8:1 and 14:1, promising the efficiency of a diesel with the power of a nice V6 despite being a 2.0-litre turbo four-cylinder.
All will be revealed next week at the LA auto show, which opens its doors to the press on November 27. Stay tuned.