Production of Infiniti's new Q60 sports coupe has commenced at the company's Tochigi plant in Japan.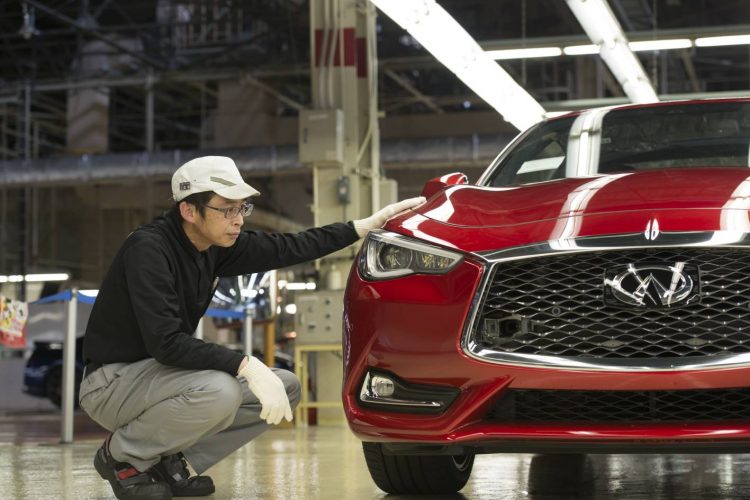 The new Q60 is the Nissan-owned company's answer to vehicles like the BMW 4 Series and Mercedes-Benz C-Class coupe. It's regarded as the two-door coupe version of the Q50 sedan.
To cater for the production of the brand new model, the Tochigi plant had to undergo some revisions to support the advanced design applied to the Q60. As such, the plant had to employ special deep-body stamping processes to produce the sharp panel lines. New machinery was also needed to construct the boot lid which is made from a unique resin hybrid (with steel frame).
A new painting booth was also installed solely for Q60 production. It facilitates the new Dynamic Sandstone Red finish, which has to be applied both by machinery and manually by Infiniti's senior paint experts.
The plant employs 216 highly-skilled 'Takumi' (master craftsmen). These were handpicked out of the 4500 workforce, and they undergo extensive and ongoing training to build the premium vehicles.
The Q60 is part of Infiniti's new-generation of models, kicked off by the Q50 and the Q30. It's expected to be a popular vehicle in the segment, especially a popular vehicle within the brand.
As revealed earlier this year, the Q60 will be available with a range of engines, including a 2.0-litre turbo producing 155kW, and a new 3.0-litre twin-turbo V6 generating 224kW and up to 298kW in flagship form. The latter of which will be the most powerful vehicle in the sub-performance category.
The Infiniti Q60 is set to go on sale in Australia towards the end of this year. Local specs and prices are yet to be confirmed.