Hyundai is apparently working on an all-new, all-Hyundai supercar to rival the likes of the Porsche 911, Chevrolet Corvette and the Nissan GT-R. The best part is, since it is a Hyundai, it is expected to be quite a lot cheaper than its rivals.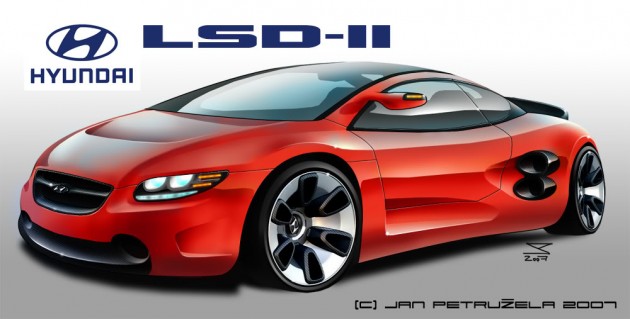 (image of unrelated design concept)
According to a report by Inside Line in America, Hyundai could be developing a fully-fledged supercar, exhibiting a low-slung, sleek exterior design and possibly a mid-mounted engine. Reports say Hyundai may use the 5.0-litre Genesis R-Spec coupe engine as a base, enhancing its performance to beyond 320kW.
Of course, this is all just a rumour at this stage but the report says word got around from within Hyundai grounds. Inside Line questioned Hyundai Motor America CEO, John Krafcik, about such rumours. He simply replied "No, no" calling the rumours  "scurrilous nonsense", predictably. Most manufacturers like to reject claims early on, but this one does seem like it has stemmed from something that could be pure fiction.
The important question is, would you buy a Hyundai supercar in the first place? If the price is right (reports says between $80,000 and $100,000 US) and the specs read well, the company is well-capable of producing a very decent product. Hyundai's ever-growing development facilities (one in California, one in Germany, and one in Korea), could surely whip something up very tasty? What do you think?
We'll wait and see if any more evidence is stirred up over the next few months and keep you updated.