Hyundai has confirmed its new future roadmap in terms of eco-friendly powertrain development with something it calls Strategy 2025. The company aims to be one of the top three EV manufacturers in the world by 2025, with an EV powertrain option to be offered for most new models by 2030.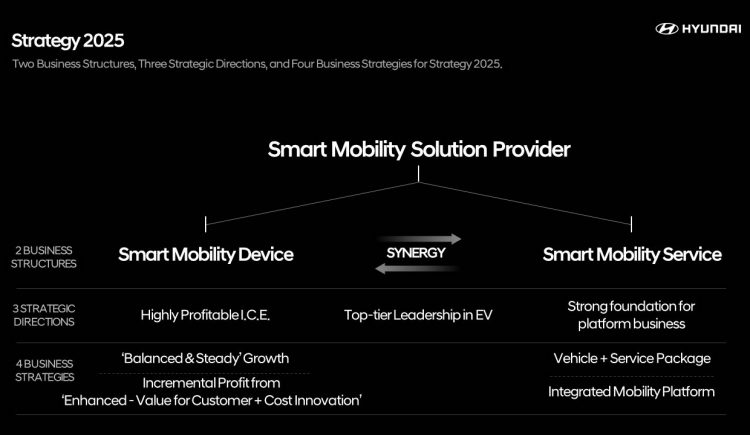 The South Korean auto giant is investing KRW 61.1 trillion in research and development into the area, with two main pillars of focus; Smart Mobility Device and Smart Mobility Service. A blend of the two is set to transition the company into a 'Smart Mobility Solution Provider'.
Under the plan, Genesis will launch its first fully electric models in 2021, with an expansion in EVs in 2024. Details on such vehicles are yet to be uncovered, but SAE Level 2 and 3 autonomous driving will be available for all models by 2025.
As for the N performance brand, Hyundai says it will launch N SUVs and EVs in the future as well. Again, without spilling any beans on the specifics. It's been widely rumoured that a Tucson N and Kona N could be on the way. And if the existing Kona Electric is anything to go by, there is certainly plenty of performance to be had with electric motors. Hyundai president and CEO Wonhee Lee said:
"The key to our future strategy is to focus on customers and to present the most desirable products and services. We want to offer smart mobility experiences that meet shifting needs of our customers by leveraging advanced technology. Transforming into a Smart Mobility Solution Provider with comprehensive mobility solutions that combine devices and services will be the centerpiece of Hyundai's future strategy."
Hyundai says it will be launching affordable electrified vehicles to suit younger demographics, with a goal to sell 670,000 electric vehicles per year by 2025. This is set to comprise of 560,000 BEVs (battery electric vehicles) and 110,000 fuel-cell electric vehicles (hydrogen).
At the moment, Hyundai offers three main electrified models in Australia; the IONIQ, the Kona Electric, and the NEXO hydrogen SUV. An electrified version of the company's most popular model in this country, the i30, might soon be on the cards. An electrified Tucson of some form in the near future is pretty much a given.