Infiniti Australia has confirmed the huge QX80 will be heading to Australia later this month, bringing a bold design, abundant cabin space, and premium features to the relatively sparse local market segment.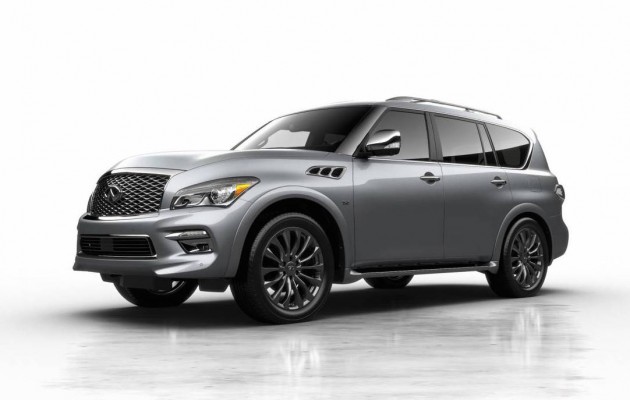 The QX80 is based on the Nissan Patrol and features the same 5.6-litre naturally aspirated V8 under the bonnet producing 298kW of power and 560Nm of torque. In the 2.8 tonne Patrol, the powertrain presents an official average fuel consumption of 14.5L/100km.
Consumption figures haven't been mentioned for the Infiniti, but given the QX80 comes with more luxury and likely more weight, it could consume even more fuel than the Nissan counterpart. To try and reduce its carbon footprint, the V8 uses variable valve timing and direct injection technology.
Underneath, the QX80 comes with an advanced Hydraulic Body Motion Control suspension system to ensure the big SUV remains flat and neutral during high-speed turns, while also ensuring maximum wheel travel in tough off-road conditions.
To make sure the mammoth beast stands out in a crowd, it comes with 22-inch alloy wheels and a unique body package incorporating Infiniti's latest styling language. In Infiniti tradition, the interior is filled with luxuries to separate it from the Nissan, with a 15-speaker Bose sound system with two sub-woofers headlining the in-car entertainment.
Infiniti has been struggling to get a firm grasp on the local market since the brand was introduced two years ago. So far this year the brand has sold just 179 vehicles. This is quite a gap behind its rival Toyota luxury brand, Lexus, which had returned 2123 sales in the same period.
The local arm is hoping to turn sales around though and says the QX80 will be the first of a series of new models to join the showroom in the near future. Next year it will introduce the Q30 premium hatch, the QX30 crossover variant, and eventually the production version of the Q60 Concept coupe.