Honda's US brand, Acura, has not only made a surprise appearance at the New York Auto Show with a cool new NSX concept racer, it has also confirmed its intention to go racing with it next year.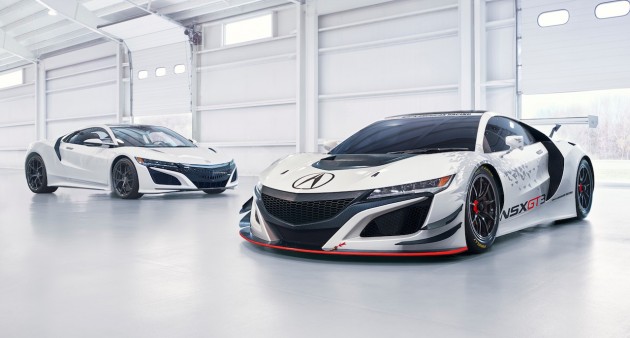 Based on the all-new NSX, the racer has been designed to meet FIA GT3 regulations. Interestingly, it does without the hybrid component as featured in the road-going version, instead making do with the 3.5-litre twin-turbo V6 only.
The 3.5-litre V6 engine uses the same specifications as the production engine, with the factory block, heads, valvetrain, crank and pistons, and dry-sump lubrication system. Unlike the road car though, which uses a nine-speed dual-clutch auto, the NSX GT3 racer uses a six-speed sequential unit with rear-wheel drive.
Also carried over from the production model is the high-strength and lightweight multi-material body and aluminium-intensive spaceframe chassis. It has been revised to suit motorsport though, and does without the usual road-going trimmings and uses a full roll cage system.
Acura says initial testing was conducted by Honda's racing engineering team in Japan, along with development on race circuits in Europe and Japan. Final development and homologation is now being undertaken by Honda Performance Development (HPD) in Santa Clarita, California. Art St. Cyr, president of Honda Performance Development, said:
"The NSX was designed as a pinnacle expression of Acura Precision Crafted Performance, and we're looking forward to proving out its ultimate performance capabilities in GT3 racing."
Honda Australia will launch the new road-going NSX later this year. It's expected to be priced well above $250,000.