Car rental giant Hertz has confirmed an order of 65,000 electric vehicles from EV manufacturer Polestar, not too long after it placed an order for 100,000 Tesla Model 3 EVs.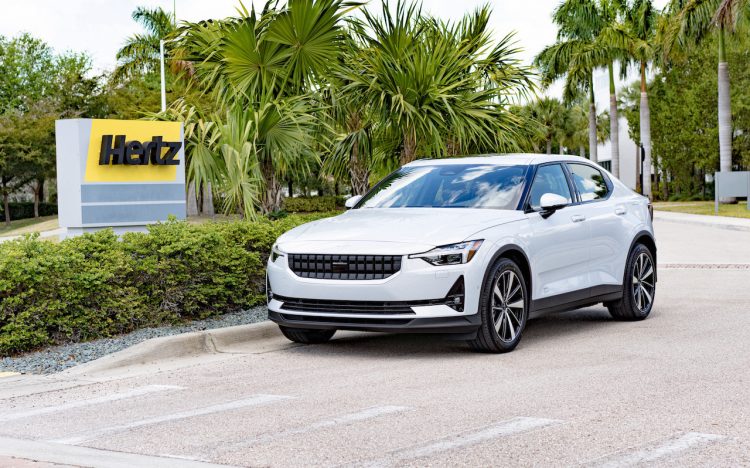 Hertz says that it plans on purchasing up to 65,000 electric vehicles from Polestar over the next five years in a new partnership, with the first deliveries expected to take place very soon in Europe.
Australia and North America are set to receive their first Polestar deliveries in late 2022, with Hertz saying that it will even roll-out a number of EVs to ride-share drivers.
How and/or where that will take shape is yet to be confirmed, but it remains an important consideration for a publicly-listed car rental company with predominantly internal combustion vehicles in its portfolio… for now.
News of Hertz doubling-down on its pre-orders of battery electric vehicles has sent share prices soaring, jumping 10 per cent to $23.38 at the time of writing.
Hertz says that it will be ordering the Polestar 2 initially, which is listed for sale here in Australia from $59,990 for the entry-level variant. It receives a single-motor producing 165kW of power and 330Nm, with power supplied by a 64kWh battery offering a range of 440km (WLTP).
Polestar also offers a long-range variant of the single motor Polestar 2, which is priced from $64,9000 and receives a 78kWh battery pack translating to a range of 540km (WLTP).
Sitting at the top of the range, the Polestar 2 long-range dual-motor is priced from $69,990, and produces 300kW of power and 660Nm of torque, with a claimed range figure of 480km (WLTP).
Last year we reported that Hertz had placed an even larger order from Tesla, confirming its intentions to buy 100,000 Model 3 EVs in order to expand its lineup of battery-electric rental vehicles.
Interestingly, at that time, Elon Musk took to Twitter to assure Tesla's full-paying customers that Hertz received absolutely no discount when the company ordered 100,000 vehicles.