The Toyota Corolla has overtaken the popular Mazda3 to become Australia's favourite vehicle of 2013. The Corolla ends Mazda's two-year winning streak for overall yearly sales.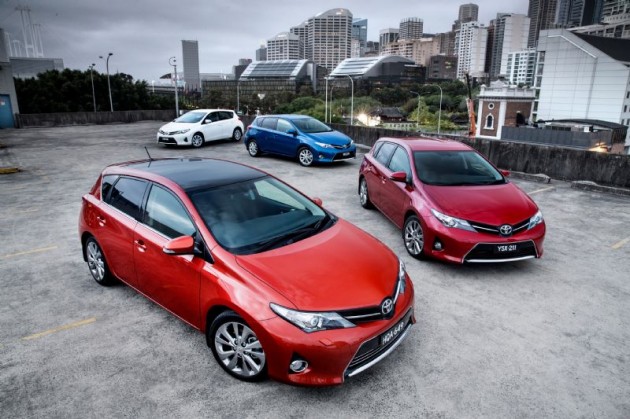 Toyota and Mazda have been neck and neck all year, with both reporting best-seller sales figures for various months throughout the year. In the end Toyota nudged ahead by just 1416 units.
Following closely behind in third spot, Toyota is responsible once again with the HiLux ute. It outsold its nearest rival by well over 10,000 units. The second-best-selling ute of 2013, the Mitsubishi Triton, came close, even scoring 7th place overall for the year.
Unfortunately the Australian sedans, cars that once dominated the local market, were not able to give any sort of threat to the top runners. Holden was able to scrap in 5th place overall with the Commodore, while the Falcon (10,610) was nowhere to be seen in the top 20.
As for sports cars, the best-selling for 2013 was of course the Toyota 86. 6706 buyers decided to go for the 86. It was considerably more popular than the Hyundai Veloster (3928) and the Subaru BRZ (1411).
The SUV of the year in terms of sales was the Mazda CX-5. It went to 20,129 homes, narrowly missing out on the top ten overall figures. It was followed by the Hyundai ix35 which reported 19,086 sales.
See below for the full top ten vehicle sales of 2013. We'll provide a more thorough report in our usual format on December 2013 figures later this evening.
1. Toyota Corolla – 43,498
2. Mazda 3 – 42,082
3. Toyota HiLux – 39,931
4. Hyundai i30 – 30,582
5. Holden Commodore – 27,766
6. Toyota Camry – 24,860
7. Mitsubishi Triton – 24,512
8. Holden Cruze – 24,421
9. Nissan Navara – 24,108
10. Ford Ranger – 21,752