Following yesterday's image leak, Porsche has now lifted the veil on the epic new 911 R high-performance lightweight. And it's been confirmed, this will be a strict limited edition model.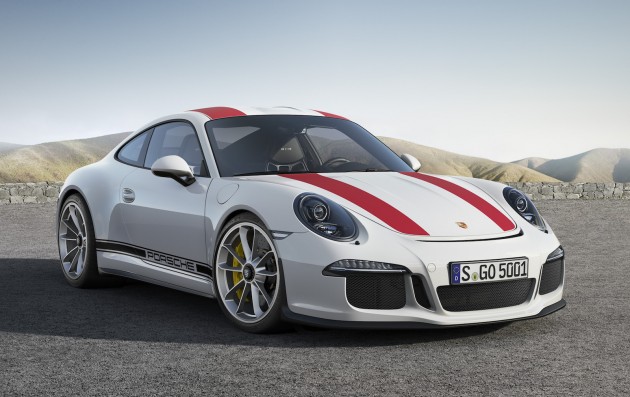 As suspected, power comes from a 4.0-litre naturally aspirated flat-six from the GT3 RS generating 368kW at 8250rpm, and 460Nm at 6250rpm. This is matched up exclusively to specially-developed six-speed manual transmission with rear-wheel drive.
Flat out, the combination can propel the coupe from 0-100km/h in just 3.8 seconds. It also offers a top speed of 323km/h. The awesome performance does come at a price though, with an official average fuel consumption rating of 13.3L/100km.
Most of this performance is down to its lightweight nature. Porsche engineers have managed to strip weight wherever possible, leaving a kerb weight of 1370kg. This makes it the lightest weight 911 currently on the market.
It's not just about speed though, the 911 R is also built to conquer the corners. It uses a bespoke rear-wheel steering system, hardcore sports suspension, along with a differential lock for ultimate traction. Speaking of which, traction is provided by 245 front and 305 rear tyres mounted on forged 20-inch centre-lock wheels.
For weight reduction Porsche has removed the air-conditioning system and the audio system, while the rear windscreen and rear side windows are made from plastic, and the rear bench seat is removed.
The driver gets a carbon fibre bucket seat with Pepita tartan trimming recalling the first 911 from the 1960s. There's also an R gear shifter, R steering wheel, and various carbon fibre and aluminium trimmings.
Porsche is planning to make just 991 examples of the new 911 R, and Australia is on the list to receive "an extremely limited number" of them. Local prices start at $404,700 (excluding on-roads), with deliveries set to begin towards the end of 2016.