It set benchmarks and even pioneered the compact hot hatch segment when it first debuted back in the 1990s. Is the 2015 Volkswagen Polo GTI a worthy evolution? And, more importantly, should you buy one over the range of competitive rivals that are out at the moment?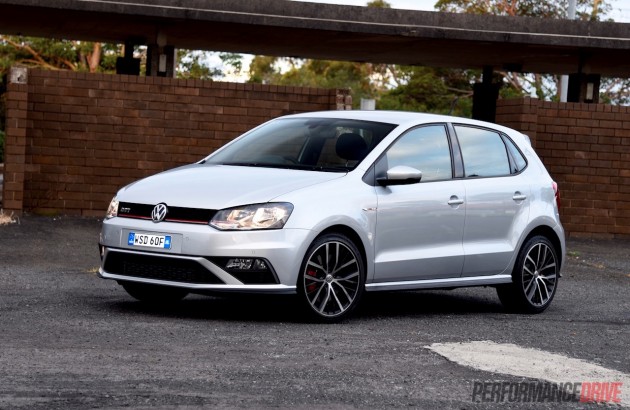 The previous model Polo GTI was, in our opinion, the class pinnacle. Sure, there were some rivals that were more exciting or had a more sporty interior, but in terms of overall ease of use, efficiency and performance, the Polo GTI was the best balanced package.
Based on the updated 2015 Polo, the new GTI has the potential to be an absolute weapon of a compact hatch. We say this because firstly, it has a larger and more powerful engine. Yep, that's right. The Polo GTI has an even more powerful engine this time around. Jammed under the bonnet is a 1.8-litre turbocharged four-cylinder, replacing the 1.4 twin-charged unit. It sends 141kW and a massive 320Nm (250Nm for DSG auto) through the front wheels. Power is up only 9kW but torque in the manual climbs 70Nm from the previous 250Nm output.
You can have it with a six-speed manual transmission (as we're testing here) or you can opt for a seven-speed dual-clutch auto. Volkswagen deserves a big pat on the back for continuing to offer a manual given it has spent considerable time and money to develop and re-develop its own in-house 'DSG' auto units. It's also to be commended for being one of the few European performance cars that are available in manual form.
Prices are at the middle of the compact hot hatch segment, kicking off from $27,490 for the manual and starting from $29,990 for the DSG version (both excluding on-road costs). Compared with the previous-gen model, which was only available with the DSG in Australia, the price climbs from $29,190.
2015 Volkswagen Polo GTI – THE SPECS
Engine: 1.8-litre turbo four-cylinder
Output: 141kW@4300-6200rpm / 320Nm@1450-4200rpm
Transmission: Six-speed manual
Drive type: Front-wheel drive, locking differential
Wheels: F: 17×7.5, 215/40  R: 17×7.5, 215/40
ANCAP: Five stars (scored 34.96 out of 37)
Kerb weight: 1234kg
Power-to-weight: 8.7:1 (kg:kW)
Official fuel economy: 6.1L/100km
Economy during test: 7L/100km
Fuel capacity/Type: 45L/95 RON
Power efficiency: 23.1kW:L/100km
0-100km/h as tested: 6.2 seconds
Priced from: $27,490
2015 Volkswagen Polo GTI – THE PACKAGE
In typical Volkswagen fashion the interior is all about clean, easy-to-operate and instantly-fathomable practicality. Most of the layout and theme is carried over from the previous model, however, Volkswagen has introduced a clever new touch-screen interface for the dash.
The interface includes most of the standard functions that you'd expect on the high-end variant. Sat-nav isn't standard though, strangely. You need to option for the Driver Assistance Package ($1400) if you want that. The pack also throws in front and rear parking sensors and a special graphic display to show you how close you are to objects.
Fortunately, a rear-view camera is standard. And so it should be. There are a lot of vehicles that come out with a camera as standard but there are still carmakers that are demanding a premium for what is now seen as an essential safety item.
With the new interface, which can sense your finger approaching the screen, there's a number of in-built apps and driving readouts that you can toggle through. It also provides controls for the decent six-speaker sound system that can play files from USB and SD card, or from devices connected via auxiliary cable, in MP3, WMA and AAC format.
All of the buttons and controls are quite Germanic. You can take that as a good thing or a bad thing. We like the simple and fuss-free style. Although it shows very little in artistic or creative merit, it means you can find things that you want very quickly. It tends to make you feel relaxed too, as opposed to a busy and flamboyant interior which can hype you up. Of course, it all depends on your preference.
The traditional tartan-patterned bucket seats offer proper hip-hugging support in the front and they are rather soft and comfortable, and suitable for longer journeys. They aren't big and bulky either, which helps to provide an airy cabin environment. Headroom and legroom in the front meets the benchmark standard. The ceiling is relatively high and the dash and centre console is forward and low, respectively. You might expect a car of this size to feel claustrophobic. But in the Polo, it is far from it.
Rear seat space is also at the top of the segment standards, with a low and flat floor presenting adequate room for two adults comfortably, or three adults rubbing shoulders. It's not the biggest rear bench you'll come across but it is totally acceptable for this segment. The bench itself is contoured to match the front buckets too, with moderate side bolsters for the outer passengers.
Cargo space is tight. Even for the segment. With the rear seats up there is just 204 litres. In the regular Polo you get 280 litres. At first we thought the difference was due to the performance suspension and chassis components underneath. In fact, if you poke you head under the rear of the GTI you'll see an impressive collection of parts, including Sachs dampers and sports lowered springs, and a stainless steel aftermarket-like twin exhaust system. However, all Polo models use the same torsion beam rear suspension layout with coil springs. Weirdly, the Polo GTI comes with a space-saver spare wheel as well while the regular models get a full-size spare. The reason for the reduced space in the GTI is because the battery is relocated from the engine bay for a better weight balance.
In any case, if you need more cargo room you can fold the rears down to open up 882 litres (down from 952L in the regular Polo). Compared with the Renault Clio R.S. (300L) and Ford Fiesta ST (276L), the Polo GTI isn't the most practical in terms of cargo carrying.
2015 Volkswagen Polo GTI – THE DRIVE
In normal, everyday conditions the 1.8 is extremely flexible, offering maximum torque from just 1450rpm and holding it until 4200rpm. With a tare weight of only 1234kg, the torque easily caters for the car. In fact, if you roll off from the traffic lights and then depress the throttle too much it will light up the front tyres on-the-go. It just wants to take off.
If you adopt a mild driving manner the GTI is happy to plot around the city just like the regular model. Vision is excellent all around, with thin pillars providing a clear vista in most directions. Each window sill is quite low as well, which tends to make it easier to interpret the external dimensions in tricky side streets and when parking.
It starts to become apparent that this is not your everyday Polo when you use the gears. This little beast will pull away from roundabouts in third gear with no trouble at all. It surges up to speed while producing a deep sporty exhaust note. Other than that though the steering is light and the clutch doesn't require a leg of steel to operate. Aside from the exhaust and the exterior trimmings, you could take someone for a drive and they'd be none the wiser to know what it is actually capable of.
Speaking of which, we took the car down our usual technical mountain route to see how it shapes up under pressure. The first element we want to award points to is the steering. The majority of new Volkswagen passenger cars present precise but rather dull steering setups. In the little Polo is it highly engaging. It will communicate with you, perhaps not to the extent of the Ford Fiesta ST's setup, but you do feel like you are a welcomed guest to the platform's party.
Whether you're driving at pace around long sweepers or throwing it around in some switchbacks, the GTI remains committed and focused, always nailing the apex. A lot of the praise for the handling should be directed to the suspension. The ride is composed and there is good wheel travel to soak up mid-corner bumps without disturbing the line.
We're not a fan of the Continental ContiPremiumContact 2 tyres. They feel quite hard in compound for a performance car, and they present some chirping and skipping under power and brakes, respectively. They make a lot of noise too. Lateral grip is astonishing though. You can pull some serious g-forces around corners, and it will bite and swing around like a high-end sports car.
Around tighter corners with the power down the inside wheel can spin for several metres – if you've switched the traction and stability control off – leaving a big black line on the road. Obviously wheel-spinning isn't the quickest way around the corner but it can be fun. The GTI does come with a locking differential to try and reduce single-wheel slip, but it only engages at speeds up to 40km/h. Interestingly, we don't remember single-wheel wheelspin being a problem with the previous model. Although, it could only be had with the DSG, and the 1.4 produced less torque.
In terms of the straight line stuff, this thing really hauls. We timed 0-100km/h just 6.2 seconds, which is 0.1 of a second quicker than what we achieved in the previous DSG version. You could expect an even quicker time in the DSG here. Mid-range acceleration is just as impressive, with the low-rev peak torque playing a big part. If you're looking for a quick compact hatch, we can assure you the new Polo GTI will more than suffice and quench your thirst for speed. It is properly fast.
Fortunately, Volkswagen has ensured the brakes live up to the speed. During our vigorous drive they showed no sign of fade or pedal drop, even after repeated runs. The pedal placement and movement is ideal so you can enjoy some heel-and-toe action as well, if that's your thing.
Aside from being exceptionally fun to drive, the new GTI returns decent fuel consumption figures. We averaged 7L/100km and the official is 6.1L/100km. It's not quite as efficient in the real world as the predecessor in our opinion (6.9L/100km and 6.1L/100km, respectively), but you can drive and drive for hours on end and not feel guilty about spending your hard-earned or feel guilty about destroying the environment. The tiny 45-litre fuel tank doesn't cost you much to fill either.
So does it live up to the pedigree? You bet it does. The extra power and torque does unsettle the overall balance slightly compared with the predecessor, but having a bit of wheelspin is probably not such a bad thing for an exciting little car like this. Whether you're average driver or a professional rally car driver, chances are, you will reach your limit before the car will. And to us, that's exactly how you tell the difference between a good car and a great car.
2015 Volkswagen Polo GTI – THE VIDEO
2015 Volkswagen Polo GTI – THE VERDICT
As far as we're concerned, if you're thinking of buying a 2015 Volkswagen Polo GTI, you should just go ahead and buy one. There's very little to fault here. It is simply one of those well-engineered and pedigree-backed vehicles that only gets better with every model generation. We would definitely have one in our dream-car garage.