Toyota's new C-HR is already one of the most flamboyant and out-there SUVs on the market in terms of exterior design. But it seems this can be amplified further, via a new aftermarket bodykit by Kuhl Racing.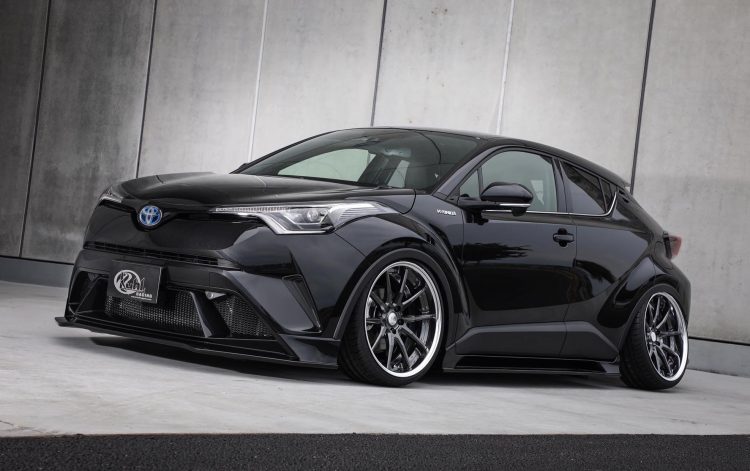 The new SUV has become quite a popular model, especially overseas. In the European market it has become one of Toyota's best-sellers. But it looks like the Japanese are taking a liking to it as well.
Kuhl Racing has come up with an extensive exterior upgrade package, which includes a full custom bodykit with fresh front and rear bumper bars, along with some suspension hardware changes to boost the C-HR's street cred.
At the front is an extended bumper bar complete with a separate spoiler that almost reaches down to the tarmac. This blends into the heavily pumped front wheel arches that swell up to the headlights like a puffy black eye.
Around at the back it's all about chunk. The thick bumper bar morphs into a massive block that helps extend the rear end down near the ground, leaving just enough space for a racy diffuser. This encases the exhaust outlet and is topped off by some go-fast fins.
Completing the picture are a set of dished 20-inch Kuhl alloy wheels. These sit perfectly in the guards thanks to a lowered suspension setup, with 12 degrees camber used for the ultimate stance.
There's no mention if there are any modifications under the bonnet. We hope so, as that's one area that does need some attention to help it compete in the aftermarket scene. As standard the C-HR (in Australia) comes with a 1.2-litre turbo-petrol four-cylinder producing 85kW and 185Nm.
With SUVs being so popular these days, it's interesting to see tuning companies catering for the trend. What do you think? Does the Kuhl Racing kit give the C-HR a look worthy of ruling the carpark?