Renowned BMW tuner G-Power has come up with its first potent performance kit for the new BMW M3 and M4 models. The upgrades cover cosmetic enhancements and boosted engine output.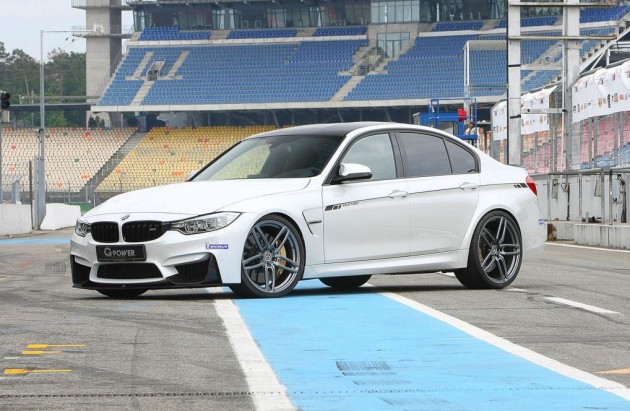 Starting with the engine, G-Power must have wanted to take its time tuning and tweaking the already highly-strung S55 3.0-litre turbocharged straight-six motor featured in the M3 and M4. And the results are impressive.
There's a new G-Power Bi-Tronik 2 V2 engine computer upgrade the reprograms the standard unit. This is quite clever as the factory setup is apparently difficult to modify. There's also a full titanium exhaust system with custom down pipes and titanium or carbon tailpipes, saving around 7.1kg. The exhaust comes with special flaps that can be opened and closed.
In standard form the engine produces 317kW and 550Nm. Once these modifications are made the engine output is lifted to 412kW and a whopping 720Nm. Considering the factory car can cover 0-100km/h in just 4.1 seconds and the quarter mile in 11.6 seconds, the G-Power package obviously goes like a stunned cat. The German tuner claims a 0-100km/h time of 3.8 seconds and a top speed of 310km/h.
As for the cosmetic side of things, G-Power offers a wide range of alloy wheel colours in its own Hurricane RR forged alloy design. These measure 21 inches and sit nicely in the guards, giving the M3 a more dominate street presence.