Ford will celebrate the 50th anniversary of its 1966 1-2-3 domination of Le Mans next year, when it enters back into the racing arena with this new Ford GT race car.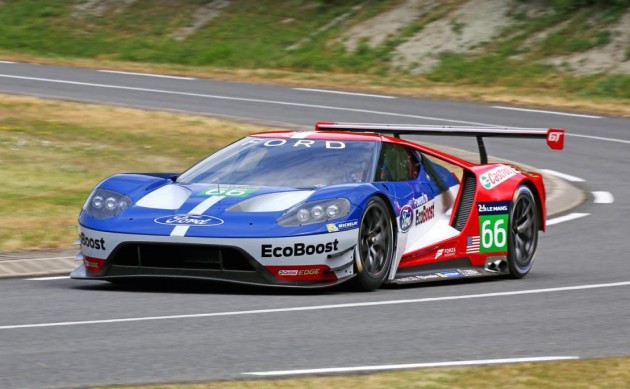 The new version is based on the GT supercar, unveiled at the Detroit Motor Show earlier this year. While the racing version looks similar, notable differences include a large rear wing, side-exit exhausts and extensive aero work, including a rear diffuser that extends past the bodywork.
The GT will make its debut in the LM GTE Pro class, and compete in the full schedule of next year's FIA World Endurance Championship. The first outing will be next January, at the Rolex 24 in Daytona, Florida.
The GT's storied history begins in the 1960s when Ford was apparently interested in an acquisition of Enzo Ferrari's company, only to have a change of heart after the US giant conducted a preliminary audit.
In response to this, Ford developed the GT40 to put the Prancing Horse in a prancing hearse. There were four generations, powered by V8s ranging in displacement from 4.2 litres to a 7.0-litre sledgehammer. This resulted in the aforementioned 1-2-3 podium finish at the 1966 Le Mans, and victories rounding up the rest of the decade.
The GT40 has since been recreated by many replica companies, including Australian-based Roaring Forties. It was also been recreated by Ford around 10 years ago, and will once again hit the road next year with the new model.