Check out this for a flash SUV concept. It's called the Kia Futuron concept, and it's set to preview the design direction for Kia's future electric vehicles.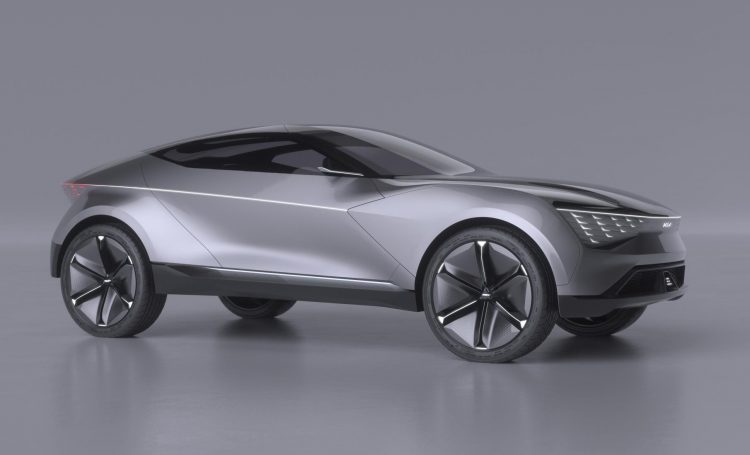 The concept is pitched as a coupe-style SUV, with a ready-to-pounce profile enhanced by curvaceous wheel arches and a sleek cabin glasshouse. A set of massive wheels and unique wrap-around doors give it a distinct futuristic touch, with a very high waistline providing that fashionably high-riding SUV stance.
It stands 4850mm long, 1550mm tall, and rides on a 3000mm wheelbase, making it 365mm longer than the current Sportage, but 305mm narrower. The wheelbase is also 330mm longer. As the dimensions suggest, it is a long and dramatic design, with plenty of room for a large cabin, but with a relatively small footprint on the road.
At the front is a modern interpretation of Kia's 'tiger nose' grille, which is much wider. It's supported by unique 'star cloud' headlights, with a similar lighting concept applied to the rear. This lighting theme is inspired by Chinese legend, with a 'Dragon Skin' surface covering the lights, representing the scaled armour of Chinese dragons.
In terms of the powertrain tech, Kia says the Futuron concept uses a fully electric system featuring a high-capacity battery which is mounted under the cabin floor. This supplies energy to four "powerful" electric motors mounted in the wheels, creating all-wheel drive. No specifications or outputs have been mentioned.
Inside is all about the future as well. The cabin is designed to support Level 4 autonomous driving capability, resulting in a spacious and flexible layout. In the front the seats are made from advanced materials and can be adjusted to present a typical upright position, or reclined for a restful layout during autonomous driving.
As is the case with most concept cars, there are no plans for the Futuron to go into production as is. However, its design is set to inspire future models from Kia. The company spoke about the SUV in a statement, saying:
"The Futuron concept represents the modern and confident image of a progressive electric SUV coupe envisioned by Kia. The Futuron name itself is a portmanteau of 'future' and 'on', hinting at the switched-on, electric nature of future SUV designs from the brand."
Kia is showcasing the Futuron concept at the 2019 China International Import Expo (CIIE) in Shanghai, running until November 10.