If speed is your calling, then this is your car. It's called the Apollo Arrow and it's just made its international debut at the Geneva Motor Show in Switzerland.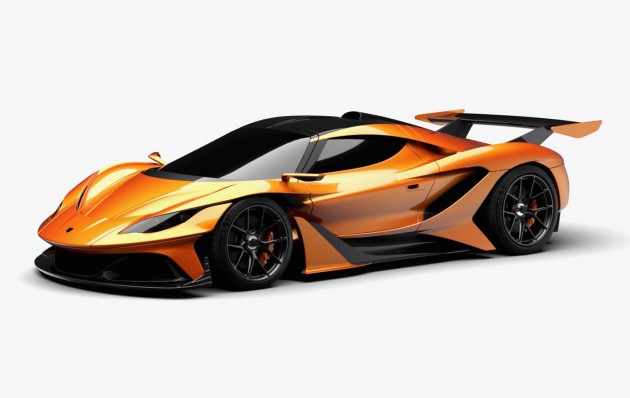 Built by the former Gumpert brand which was recently acquired and renamed Apollo, the Arrow is all about speed and performance. It uses motorsport levels of attention to detail and safety, along with mega power from its V8.
Apollo says safety is of high importance and in developing the Arrow it wanted to make sure that with every kilometre gained in speed the safety threshold was matched. This was primarily achieved via the use of a chromoly frame with an integral carbon fibre monocoque.
As for the body, it looks like it's going 400km/h just standing still. The roofline is extreme low and the front end pretty much scoops along the ground like a giant spade. There are so many flares and fins, especially at the back, it looks out of this world. It was all developed using computation fluid dynamics to ensure every bit of air passing over and under the car is put to good use.
Like the previous Gumpert Apollo, the Arrow uses a traditional mid-engine layout incorporating a 4.0-litre twin-turbo V8 engine. This unit passes Euro 5 emissions regulations, and uses twin-scroll turbo technology and air- and water-cooled intercoolers.
If you're keen enough to floor it, the engine generates a maximum of 736kW of power (1000PS) and 1000Nm of torque. This is sent through a seven-speed CIMA twin-plate-clutch sequential transmission, sending force into a rear-wheel drive system with a self-locking Torsen differential.
Out on the tarmac, using the on-board launch control system, the Arrow can cover 0-100km/h in just 2.9 seconds, 0-200km/h in 8.8 seconds, and it will soar on to a top speed of 360km/h.
As you would expect, the Arrow uses essentially a racing car suspension setup with double wishbones at the front and rear with pushrods. It also comes with air jacks (of course) and fully adjustable ground clearance and adjustable stabiliser bars.
Apollo hasn't been specific about whether this is a road car or a track-only car, but judging by the sharp body, lack of ground clearance, and the engine power, we'd be guessing this is not the type of car that would pass Australia Design Rules very easily. Still, what a beast.