Audi will unveil the next-gen 2019 Audi Q3 later this week. And to build anticipation the German company has just released a teaser video onto its YouTube channel.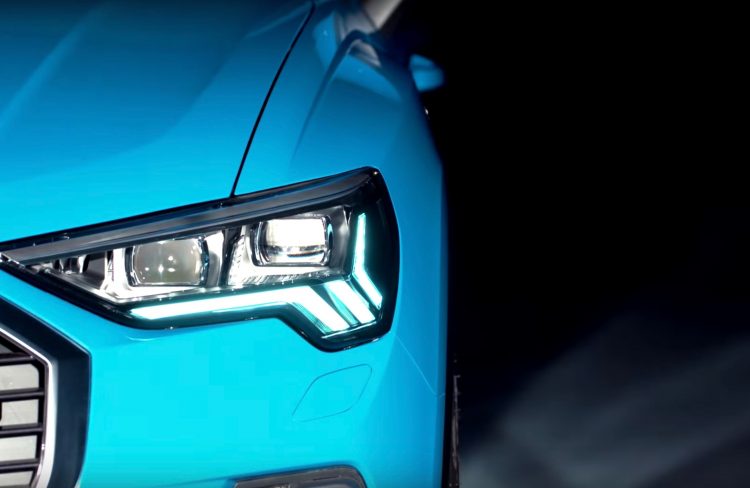 Not much is revealed in the preview, as you might have expected. But we do get a glimpse at a few of the details, such as the new-look LED headlights with striking daytime running lights, as well as a fresh front grille that follows in the footsteps of other new models by Audi.
The new model is set to jump off the old Volkswagen Group PQ25 platform and onto the more modern MQB layout. This should see some dramatic improvements to the driving dynamics, as well as weight optimisation and distribution, along with increased passenger space.
Speaking of passenger space, the cabin will receive the 'virtual cockpit' digital instrument cluster, while a sharper dash design is expected with a larger MMI interface. Audi will likely introduce some new technologies too, such as the latest voice command and potentially gesture control.
In terms of the powertrains, the 2019 Audi Q3 is set to come with a range of TSI turbo-petrol engines ranging from 1.5L to 2.0L in capacity, with a 2.0 TDI turbo-diesel also likely. Audi is increasingly introducing hybrid options, as well as 48V mild hybrid systems, so we wouldn't be surprised if Audi brought in something like that here.
As reported last week, Audi looks like it is planning new SQ3 and RS Q3 variants. These are set to come with a 2.0 TFSI and 2.5 TFSI, respectively, with outputs hovering around the 224kW and 300kW mark, respectively. The usual smattering of performance highlights, such as quad-outlet exhausts, large alloy wheels, and an aero kit are a sure thing.
All of the details will be revealed on July 25, this Wednesday. Knowing Audi, another teaser or two will probably be rolled out before then. Check out the teaser below to see how it looks so far.