FPV has announced it will be producing 125 FPV GT BLACK limited editions to go on sale. The BLACK will be based on the concept that was first unveiled as the FPV Concept Black GT at the 2011 Australian International Motor Show earlier this year.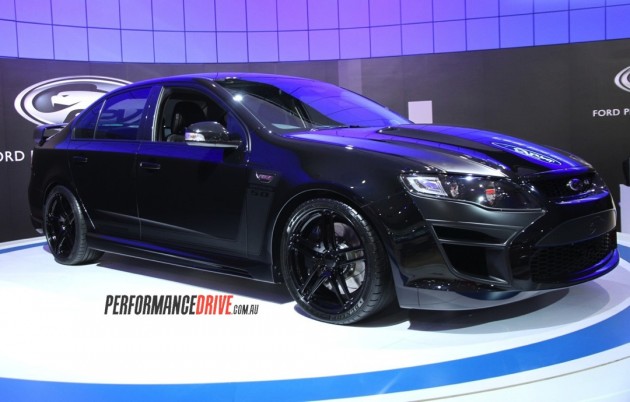 Ford and FPV have said the Concept received plenty of positive feedback from the show, and many begged for a production version to hit the market. So the company has fulfilled the request and will introduce 125 FPV GT BLACK variants. Unfortunately, the production FPV GT BLACK will miss out on the suspension and performance brake upgrades the FPV Black Concept exhibited.
The FPV GT BLACK will feature the same 5.0-litre supercharged V8 as the regular FPV GT though, outputting 335kW and 570Nm. It will also be coated in that now iconic Silhouette black colour scheme matched with matte black stripes and details. FPV General Manager Rod Barrett said in a recent statement,
"We were totally blown away by the positive feedback received from fans and show-goers on our Concept."

"We knew we had a winner with the black paintwork and we wanted to action something immediately. The public spoke and we listened and I am just thrilled we have been able to put the GT BLACK into production so quickly."
Other features of the new FPV GT BLACK include black foglight clusters, black quad exhaust tips, gloss black GT 19-inch alloy wheels with black studs. The interior will also get a reversing camera, various BLACK badges and detailing, and a fresh leather upholstery.
The 2011 FPV GT BLACK will go on sale at participating dealerships, with prices starting at $74,290. The special edition will be available in auto and manual and each model will come with a special build number for authenticity. Barrett added,
"With only 125 units available, we urge interested buyers to act quickly, with a number of vehicles already pre-sold."
Also check out:
– FPV Concept GT Black unveiled at 201 Australian International Motor Show
– 2011 Ford FPV GS Ute review
– HSV Clubsport SV Black Edition unveiled at 2011 Australian International Motor Show
– 2011 Australian International Motor Show top ten must-sees