In an effort to help Volkswagen achieve its goal of becoming the biggest car maker in the world by 2018, we will see a string of all-new models come from the various brands within the group in the near future. A new model said to be on the horizon is a baby Porsche Panamera junior, a Porsche 'Pajun', medium-sized sports sedan.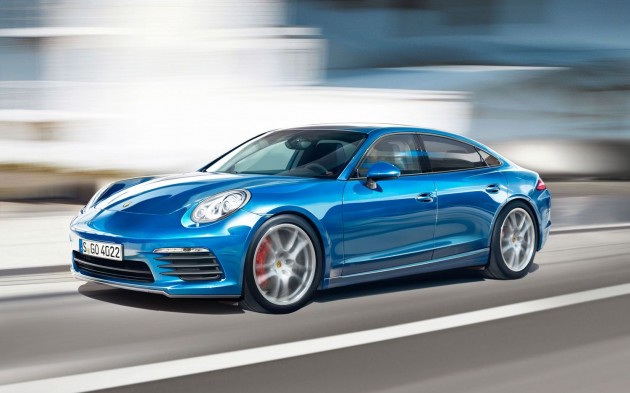 Various rumours and reports have been circulating lately, suggesting that the new Porsche Panamera junior will use Volkswagen Group's new MSB platform. The flexible new platform will be used on various upcoming models from Porsche, Lamborghini and Bentley, catering for rear-wheel drive and four-wheel drive drivelines.
Little details of the new Porsche Pajun – or whatever Porsche eventually calls it – have been released. The new sedan will likely be powered by a range of all-new V6 and V8 engines though that are expected to be launched with the new model.
There are talks of versions ranging from 3.0-litre to 3.6-litre V6 units, as well as a high-performance turbocharged unit, outputting from 300kW-420kW. A flagship V8 version could bring around 600hp (450kW) to the showroom, while more fuel efficient diesel versions are also on the cards, possibly adopting the Audi 3.0-litre TDI V6.
The Porsche Pajun will be available in rear-wheel drive and four-wheel drive, with rear-drive sportiness being its key emphasis. Porsche is expecting to produce and sell beyond 200,000 versions of the new sports sedan every year, once it hits the market in 2015.
The Porsche Pajun will rival the likes of the BMW M3 and M5, and Mercedes-Benz C 63 AMG and E 63 AMG to certain degrees.
We'll have to wait until a year or two for more concrete details, but it looks like the new Panamera junior is on its way and it is a model we should get excited about, as Porsche has never offered a genuine sports sedan in its 80-year history; the company will be wanting to do it well.
(Source: CAR)