Dear readers. Have you attended one of the press days at the current Detroit Auto Show and did you have a closer look at Ford's stand? If you answered "yes" to both questions, we bet your bedside table has by now been graced with an exclusive toy F-150 Raptor. Indeed, Ford surprised some lucky visitors by generously distributing some of these mini models, at the same time showing that the sky is obviously not the limit. Yep, the presents fell literally out of the heavens, thanks to a dutiful drone.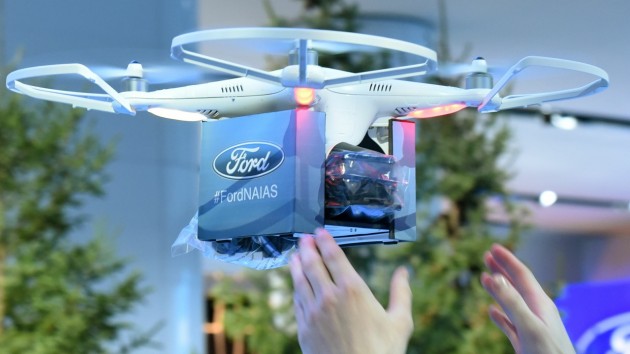 In order to be eligible for a baby Raptor, guests simply had to text 'Raptor' to a certain number, after which a selected few would receive a message in return, informing them when and where they could expect the drone, capable of reaching 53km/h, to drop their present right into their welcoming arms.
It was definitely a last-minute stroke of marketing genius that made Ford decide to contact the Philadelphia-based company DroneCast and hire their winged deliverer about a week and a half ago. However, Ford had little time left to arrange all the necessary paperwork, such as securing liability insurance, ensuring a soft cover for the drone's razor-sharp propellers, and obtaining clearance from the Federal Aviation Administration (FAA) to guarantee the drone's indoor use around people.
Despite all these precautions, the drone was literally and figuratively grounded last Monday, when the Detroit Fire Department chose to check the safety of the darting device's lithium-polymer battery. When this proved to be satisfactory, Ford's flying employee could resume its whizzing work, albeit via a different flight route, confirming that no people were walking underneath its aerial path. Earlier, DroneCast had already diverted its course after finding out that the originally planned track entailed floating above Ford's GT supercar. "Our insurance isn't enough for that car," explained CEO GauravJit Singh drily.
To all NAIAS ticketholders who would like to make themselves and their bedside table(s) happy with a drone-delivered Ford toy: with heavy heart, we have to add that they were only available for press day attendees.