As promised, Honda has revealed the all-new 2016 Civic sedan in US-spec, featuring a new-look design and a 1.5-litre turbo engine for the first time.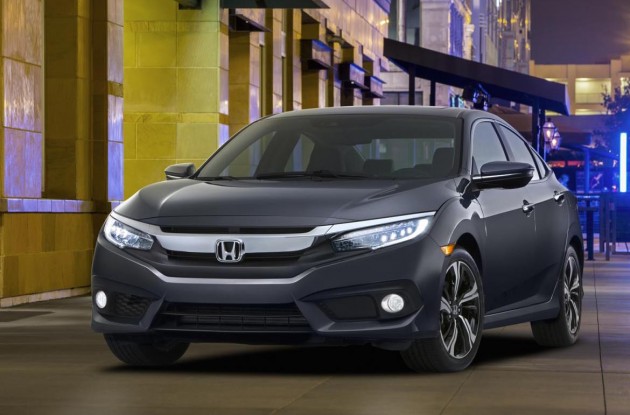 Starting with the most interesting aspect of the new model, the engine. Honda has developed a 1.5-litre turbocharged petrol four-cylinder. This is the first time a turbo-petrol engine is being offered on a mainstream Civic in the USA (non Type R).
Specific outputs for specific market regions haven't been mentioned, although it is understood it produces around 130kW. The engine is matched to a specially-tuned CVT automatic transmission.
A 2.0-litre naturally aspirated unit also makes up the range, producing 118kW. It comes with either a six-speed manual or a CVT automatic. This unit is the most powerful base engine ever offered with a Civic.
Honda has made some fairly significant changes to the chassis dynamics and underbody engineering for the new model as well, showcasing an all-new platform which is labelled as the "most rigid and tightly sealed body" in the Civic's history.
The company says the car sets a new standard for dynamic handling, steering, ride quality, and cabin quietness in the small car class. Torsional rigidity is improved 25 per cent thanks to more ultra-high tensile steel, while aero efficiency is improved by 12 per cent compared with the outgoing model.
In terms of the design, the body is now sleeker than ever before, with 30mm added to the wheelbase, 50mm added to the width, yet it sits 25mm lower overall. LED lighting front and back is available, while the face is distinguished by a new-look grille that connects the headlights.
With an increased wheelbase comes more interior space. There's 50mm of added rear legroom, and 105 litres of extra cabin environment thrown in. Boot space is also boosted by about 74 litres (2.6 cubic-feet).
Also for the on-board tech, the 10th-gen Civic sedan now gets a 7.0-inch touch-screen high-definition display. It features Apple CarPlay and Android Auto services, and supports various apps for phone, messaging, and other compatible third-party apps.
The 2016 Civic sedan is destined to go on sale in Australia next year. Local specifications are yet to be announced and may differ from the US-spec version as featured here.