Ford is offering Focus RS buyers in the US the chance to deck their cars out with a fully sick rally-spec quick-release handbrake system dubbed the "Drift Stick". This goes perfectly with the Focus RS's drift mode driver function.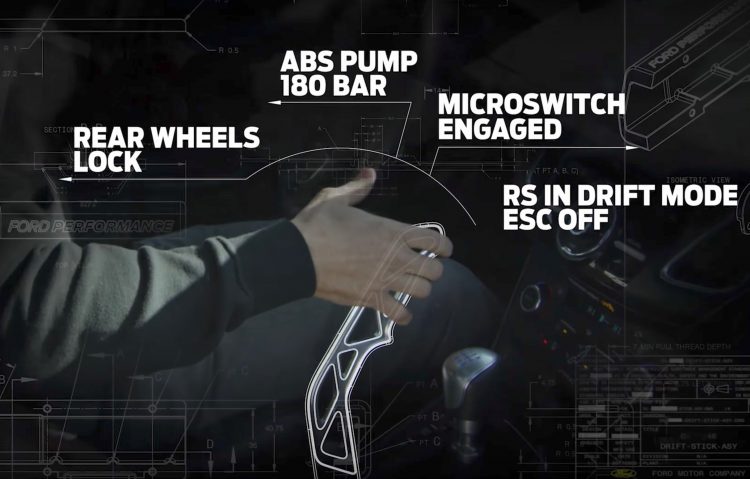 Unlike proper rally cars and Ken Block's car that feature a hydraulic handbrake, the drift stick is essentially an electronic handbrake that works via an aluminium lever. Simply give it a yank at corner entry and it'll lock the rear wheels for as long as the stick is pulled, and then release it or let go to de-lock them.
The unit is mounted in between the driver's seat and the manual transmission, connecting to the brains of the car via the onboard diagnostics port. Ford says no drilling of holes or welding is required to install. Working with the clutch in the all-wheel drive system, activation decouples the drive and locks the rear wheels via the usual hydraulics. ABS is also deactivated for the rear wheels, obviously.
Seems like a pretty gnarly feature for a production car? Yep, and that's because it was created by the same Ford Performance team that developed the car's drift mode function. Ambassador and drift ace Ken Block spoke about the option, saying:
"I think it's really cool that Ford Performance is offering customers a way to create large-angle drifts in the Focus RS. Obviously it's something that I'm really passionate about having been a part of the development of the production vehicle, so it's exciting to see it come to life. It definitely makes the car even more fun to drive."
At this stage it's unknown if the Drift Stick will be offered in Australia considering the drift mode function already caused plenty of controversy among media and other parties. Let's hope so. It'll be the only all-wheel drive car on the market that's set up to drift straight out of the box. Check out the video below with Ken Block giving a demonstration.
https://youtu.be/z-SHQw8G5SE