A 2017 facelife for the Peugeot 2008 has been applied, bringing refreshed styling, new technologies, and some powertrain updates to the compact SUV.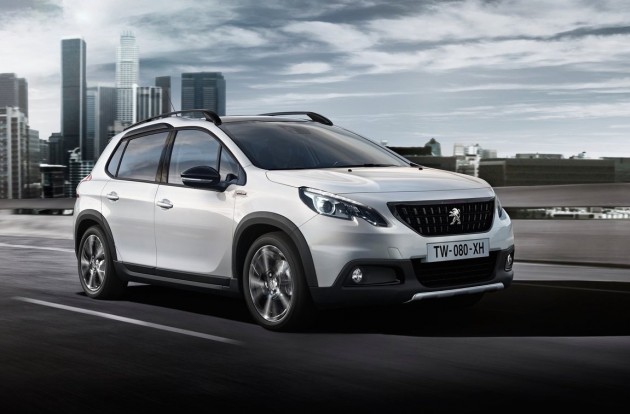 Essentially a jumped up wagon version of the 208 compact hatch, the 2008 is ambitiously described by Peugeot as an "extremely attractive SUV". For the facelift the French company has installed extended wheel arches, a new vertical-themed front grille, and that's about it.
Originally launched in 2012, the 2008 is already quite a modern-looking bit of gear. It features sporty roof bars, a contoured bonnet that leads up to the roof for a wave-shaped profile. Around at the back the 2008 boasts a low loading sill which is just 60cm from the ground, making packing and unloading easy. The boot offers anywhere from 410 litres to 1400 litres with the 60:40 rear seats folded.
Perhaps the highlight of the new model is the introduction of the Euro 6 compliant PureTech and BlueHDi engines, paired with auto and manual options. The petrol PureTech engines, all of 1.2 litres in capacity, produce anywhere from 60kW, 81kW, and up to 96kW. These offer exception fuel consumption averages, from 4.4L/100km and up to only 4.9L/100km.
Meanwhile the BlueHDi diesel engines, all 1.6L, produce anywhere from 55kW, to 74kW, and up to 88kW. Fuel consumption is as little as 3.5L/100km, and up to only 3.7L/100km. This makes it more economical than the Toyota Prius.
Inside, the updated model gets an on-board 7.0-inch infotainment screen with MirrorLink smart phone functionality, along with Apple CarPlay, a rear-view camera, and automatic parking for some variants.
Peugeot's Australian arm says the update will arrive locally during the fourth quarter of this year. Specifications and engine options are yet to be confirmed. A sporty GT Line trim package is yet to be confirmed for Australia as well.